If you're in this business for more than a minute (heck, if you're in this LIFE for more than a minute), you're gonna see friends come and go, you're gonna have fans love you then hate you, you're gonna experience the chill of that agent who was crazy about you suddenly forgetting you're alive, you're gonna feel a casting office go cold on you after it was hot for a nice long run. Ouch. Yeah. That happens to everyone. And the more I say, "don't ever take that personally," the more eyes roll (including my own), because we all know that's easier said than done.
Until now.
Yup. I've come up with the best freakin' analogy ever to help us all deal with this. (Okay, okay, perhaps I'm overstating that. I have a LOT of pretty amazing analogies, but I'm really crazy about this one, so let's try it out and see if it flies for y'all too.)
You're the host of a great party. Guests are laughing, talking, making new friends and connecting with existing friends. You're circulating to be sure everyone is having a great time, glasses are filled, snacks are plentiful, music is lively. It's a great party.
Then you spy out of the corner of your eye someone leaving without saying goodbye. They've grabbed their coat and they're slinking out the door. "Oh no," you think. "What's going on? I'd better go find out."
And out you go, into the street, chasing this friend who has — for whatever reason — left the party. You want to find out what you could've done differently. Did you not spend enough time talking with this friend? Was the music too loud? Does this particular friend have a problem with what you're offering in terms of food and drink? Or maybe there's a mutual friend there with whom this friend had a falling out? There's some discomfort not even related to you that would somehow cause this friend to leave? Oh, but then this friend would've said goodbye. That can't be it. It must must MUST be something you could change, so out you go, into the street, chasing this friend down to find out why your party was no longer entertaining.
Um. You just left your party.
And whether there are 100 guests, 50 guests, 20 guests, or those last four best best BEST friends who always stay 'til the sun comes up, laughing, talking, and helping clean up, YOU JUST LEFT THEM to chase out into the street someone who — for whatever reason — was feeling done. How rude!
Look, people will leave your party. An agent that was hot for you will dump you. A producing partner that loved huddling over story ideas will stop taking your calls. A very best friend that you thought would never be anything less than a very best friend will simply fade away without ever telling you why — even when you ask. A casting director who loved bringing you in will stop doing so. A fan who swore undying love for you at the film festival at which you first met will write a scathing review of your next play. It's gonna happen. People will leave your party.
It's your choice whether you, too, leave your party in some futile attempt to find out what went wrong. I say, don't leave your party. You stay there and celebrate those who are loving what you're doing. You stay there and laugh with those who are having a blast. You stay there and refill the glasses of those who still want to have a toast for all the good things going on. Those who left? Maybe they're gone forever and you'll never know why. Maybe they left for a bit and they'll be back to the party someday. When they're ready. Being chased down the street doesn't make them ready. It only disrespects those who wonder where this party's host suddenly went.
I'm not going to be able to convince you not to THINK about those folks you see leaving your party without saying goodbye (or even those who storm out in some swirl of drama you're happy to see make an exit). You will think of them. You will wonder why they left. And you may never know for sure. When my brain goes there for a moment, I assume they just ran out to grab some more ice! How thoughtful!
Now, let's get back to the party.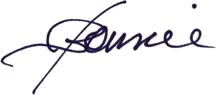 ---
Bonnie Gillespie is living her dreams by helping others figure out how to live theirs. Wanna work with Bon? Start here. Thanks!
---
Originally published by Actors Access at http://more.showfax.com/columns/avoice/archives/001547.html. Please support the many wonderful resources provided by the Breakdown Services family. This posting is the author's personal archive.
(Visited 658 times, 1 visits today)