You know there's a version of you who has it all together. This version of you — the one you sometimes get glimpses of, the one who flirts with all the success and creativity and FUN this business of ours holds — has a sense of confidence about who she is as an artist, a sense of ease about "effort" when it comes to things like meeting with agents and casting directors, a sense of calm about things that used to feel incredibly frantic and out of control.
We'd say this version of you is a brief 100 days away, but we know better. This version of you exists RIGHT NOW and not just for quick bursts of time here and there. This version of you — this confident, calm, creatively inspired rockstar who moves through life with clarity and purpose and JOY — just needs more attention than she's been getting.
And that's, at its core, what our work together is all about.
Hollywood author, producer, casting director, and coach Bonnie Gillespie brings the Self-Management for Actors curriculum to life in this 100-day program called Get in Gear for the Next Tier! And since its inaugural class of creatives around the world first experienced each of the 100 days, this program has been the foundation for more up-leveling, more dream-fulfilling, more passion-living than even WE could've anticipated, in building it.
Every DAY, another beautiful creative on the storytelling journey — from a population of actors, writers, directors, producers, showrunners, even agents, managers, casting directors, and publicists — reaches out to share unsolicited feedback on the POWER of this membership.
There is no exaggeration here: Get in Gear for the Next Tier will change your life… if you're ready.
We are currently CLOSED to new enrollment while we make some exciting UPGRADES to our flagship membership program. Please let us know if you'd like to be notified when we're gearing up for 2020 registration!
…until registration opens for our first class of 2020!
Throughout these 100 days and beyond, we've GOT you. And — most importantly — you've got this! You KNOW there's a better you on the other side of some blocks that do NOT have to stick around and have such power over you! Never been able to create or maintain a show bible? We've got you. Never quite been able to understand why your type and brand don't feel like the most castable version of the storyteller you were born to be? We've got you. Never enjoyed that whole schmoozing thing — online or in real life? We've got you.
It's time for you to step into the unfair advantage in this creative life that is simply BEING ON YOUR OWN DAMN SIDE for a change.
Sounds simple, but we have hundreds of graduates experiencing life like they've never before dreamed could be possible to back this up: Showing up for yourself WILL change everything.
So, commit to joining us for these 100 days! After 100 days open up for you, you'll have time to poke around The SMFA Vault,revisit any days that need a little more love, join the grads-only private online discussion group to continue the magic of your membership, and so much more!
If you decide from there to stick around for ongoing membership — allowing you to coach one-on-one with Bon at discounted rates, do the 100 days again from your new tier, continue to fortify your unfair advantage in this industry, jam with us in ongoing convos in the grads-only space, continue to explore the magic of The SMFA Vault as we add new treasures regularly to support your new tier and your continued trajectory — it's just a buck a day!
---
FAQ
What if I fall behind?
Let's just go ahead and assume you will. Because, y'know… life. It's OKAY. This program was designed to be a part of your real life and that means REAL LIFE HAPPENS and we still get to figure out how to live our dreams every damn day! Being able to build the muscle to STILL show up for yourself, create boundaries that protect your dreams and goals, and do the work that is at the foundation of providing you full access to the life of your dreams is what these 100 days are all about. We've got you!
Do you offer a payment plan?
You betcha! We're so excited to be able to help you spread out the lifetime membership a bit! (Note: This *does* increase your lifetime membership due to admin fees, but if having the extra time is worth that add-on to you, you're all set!) And if lifetime membership isn't your preference at all, you may choose our pay-as-you-go membership so you're going month-to-month with us after your initial enrollment. Woo HOO!
Why are y'all so awesome?
Hey, Bon just wants to leave Hollywood better than she found it. That means helping blocked artists get out of their own freakin' way, helping just-on-the-brink-of-greatness folks make that big leap, and creating the things that bring more joy to the journey for EVERYONE (including herself). The whole team is here for you throughout your experience. YOU are so awesome and that's why you've found us. Now, let's DO this!
---
Still wanna know more about our revolutionary life-changing 100-day program and ongoing mentorship membership? Okay… keep reading, watching, and enjoying the goods!
Woo hoo! Get in Gear for the Next Tier is 100 days of daily motivation, strategy, and up-leveling focus capped off with exclusive access to The SMFA Vault filled with Self-Management for Actors goodies and never-before-seen treasures.
Once I met Bon, I started realizing I love casting directors. And that made a difference in my auditions. So I'm singing the praises of Bonnie Gillespie wherever and whenever I can. — Ari Stidham, Scorpion
What IS Get in Gear for the Next Tier?
It's 100 days of focus in the shape of vids, MP3s, PDFs, action items, and group powwows… categorized and presented in a gloriously progressive and manageable format so that you can finally cut through the NOISE of pursuing a creative career, move forward to the next tier, and find more joy along the way.
At the end of this 100-day Self-Management for Actors challenge, you'll feel better — and more empowered — than ever before!
And that's when it gets *really* ninja.
Because on day 101, you unlock The SMFA Vault. This is a treasure chest filled with SMFA goodness that Bonnie Gillespie has only ever shared with her mastermind group members and ongoing private coaching clients. Everything from how to work the red carpet to setting up a passive income stream to keep you flush during the lean times! From getting paid as a public speaker to writing and publishing your first book! From equipping your team with tools to negotiate the best possible deal for you on your next acting gig to setting up your own production company so you never pay taxes the same way again!
Woof! This is getting good!
Much of what I've learned about showbiz is from you and now I have a deal with TWC. Just sayin'. I credit any success I've had, am currently having, and will ever have with SMFA and the ninja moves you teach. — Mercedes Rose, The Haunting of Sunshine Girl
The Fine Print
You may choose lifetime membership for $1100 (or three monthly payments of $400) *or* our pay-as-you-go membership. For pay-as-you-go, your initial membership is a four-month term for a single payment of $500. Then you're in at $30/mo. for as long as you wish to stay!
Your initial enrollment covers 100 days of daily inspiration on the exact steps you need to follow to revolutionize your showbiz career plus 20 days unlimited access to The SMFA Vault including the private Facebook group. Poke around, revisit any of the 100 days, stay engaged with your creative community, show up for *private* Facebook Live events with Bon, go nuts!
After that, your membership switches over to a low monthly membership structure (just a buck a day) so that you can continue to consume the goodies in The SMFA Vault, restart the 100-day challenge if you need another boost of badassery, stay connected with us about your creative career, and of course enjoy the NEW offerings we're always adding to The SMFA Vault customized just for you and your needs!
If you've chosen lifetime membership, you're all set. Enjoy all the upgrades, live rounds, exclusive coaching offers, additional specialty tracks, and so much more! No gym membership monthly fees for you, you smart cookie! 🙂
This course has opened up so many arenas for me that I thought weren't possible. The book gave me the keys to reverse engineer my path and my career doesn't feel as mysterious or frivolous as it once did. The 100-day program is kicking my butt and really drilling in the specifics of targeting, finding an agent, managing my time, managing my image, and so much more! From mindset to career guidance, Get in Gear for the Next Tier will launch you in all the areas necessary for this business! It's obvious that this course will be helpful for anyone at ANY tier. I wish I'd had found the book and the program earlier! — Raechel Wong, Los Angeles
This experience is unlike any we've ever offered in that it combines the passionate daily intensity of our FREE Get in Gear for the New Year program with the longform support and structure that fortifies muscles you CRAVE using in your creative pursuit. Complete with built-in *breathing room* so you can really feel your muscles for success strengthening over time, this program will make the difference in your level of self-care forever. Because next-tier YOU deserves the best!
Wanna check out an epic Facebook Live Q&A about how to create lasting change with this program? Go here! Wanna check out the awesome topics we run through as a part of this program? Here's a graphic! Think blazing through the GIGFTNT Welcome Kit will help you be sure NOW is the time? Grab that badass PDF here! Would you like a peek at some of the good stuff we do in the private DOJO Facebook group? Here's a fun Brandprov jam and here's a more woo-woo bit of badassery!
The strength you'll build for success in these 100 days will astound you. The momentum for your brilliant career will delight you. And the JOY you will find as we huddle about all things ninja will keep you blissed out about a business that previously confounded, overwhelmed, and frustrated you! Those days are over. Come on inside the dojo and let our unprecedented support and guidance forever change how you manage your creative career! This will become your new favorite gym… and the workout is always one you're so glad you did. 😉
We cannot WAIT to jam with you as you head to the next tier!
We'll see you in the DOJO! Registration reopens in…
Let's make 2020 your best year yet!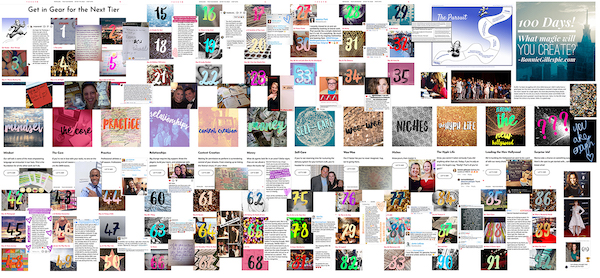 Click to enbiggen.
(Visited 18,809 times, 1 visits today)