I have approximately four hundred and seventeen things to share about these life-shifting few days I've just spent in Canada. I mean, whoa. This soulful entrepreneur retreat was everything I had hoped it would be and more.
So choosing exactly where to start with my takeaways is tough….
But I'm gonna lead off with a little something I've never shared — or, well, hadn't 'til this weekend — and that's why I do what I do.
See, one of the many circle-up-and-work sessions we had in our time together included sharing our why.
Here I am surrounded by lightworkers and healers and therapists… and, yes, a brand strategist, a travel photographer, and a restaurateur, but even those folks in the less woo-woo arts have really beautiful WHYs. They're healing the world.
Of course, I am too.
But I never talk about it because all anyone *really* cares about is that I can help them go from co-star to guest star billing, identify and land a next-tier agent, or once and for all help them embrace their most castable brand.
SOMETIMES they care about my #CreatingTheHollywoodWeWant initiative, but for the most part, it's "get me that agent" and "get me that role" I'm hearing.
Because I've been conditioned to believe that talking about MY why is of zero impact when it comes to justifying that anyone should ever work with me, take my advice, or even read Self-Management for Actors to begin with, I've just sort of kept it quiet.
Until now.
As we went around the circle and explored the WHYs of these beautiful, inspiring, delightfully powerful women, I thought, "I'm gonna share it. I'm gonna get real about my motivation in every. single. thing. that I do with and for the creative community I'm here to serve. I'm coming out."
And part of coming out means really coming out, which is why you get to read these words now.
My work heals blocked artists. And this is important because blocked artists lack the ability to do their storytelling magic at the highest possible tiers, reaching the largest audience possible. And since the whole point of storytelling is to help others feel less alone, every storyteller's job is essential. Therefore, my work is a part of the healing process for the world itself.
Whoa.
I actually just put that in writing.
And I'm bracing myself for aaaaaalllllllllll the, "Who the hell do you think you are, monkey?!?" that comes from folks who may only value me for my ability to identify a brilliant target strategy or my keen awareness of the players in this business and their comprehensive histories. Folks who need me because I can steer them away from actor busy work or help them figure out their age range.
But this weekend, I got clear that the reason anyone needs me for any of the actual nuts-and-bolts of what I do is because YOU TOO understand that your work is important. YOU TOO get that your storytelling has the potential to heal the world as it makes others feel less alone. YOU TOO feel more connected to your purpose (and why you chose to be a storytelling creative to begin with) when you are able to have your greatest reach, connecting with those who most need inspiration, entertainment, or just a silly laugh to get through the day. And YOU TOO know that when you're blocked — whether that block takes the shape of not having the right rep, having money blocks, not getting out commercially, feeling disconnected from your True North, or not being clear on your primary type — you're less effective at living out your WHY: Telling the stories you were born to tell.
So, that's why my WHY is important. That's why I'm a healer. And that's why I've been shifting away from hiding medicine in the ice cream and toward revealing that the medicine *is* the ice cream. 😉
Phew.
And so it is.
Thank you for letting me share this with you. I wish you so much inspiration and joy and clarity as you navigate about your storytelling journey. Your work is so fucking important!
That means mine is too.
So let's get to it! There's so much ahead for us all!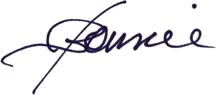 ---
Bonnie Gillespie is living her dreams by helping others figure out how to live theirs. Wanna work with Bon? Start here. Thanks!
(Visited 1,225 times, 1 visits today)