HAPPY BIRTHDAY, CHAD! I hope your special 12 of 12 birthday edition was rockstar, like you!
Here's my 12 of 12 for November (click any photo to enlarge). Hope you'll share yours too!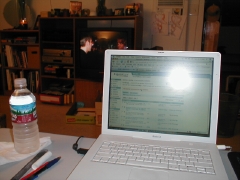 12:53am: Home from Gimlet Night and approving BonBlogs comments while watching the best worst TV show ever (Cheaters).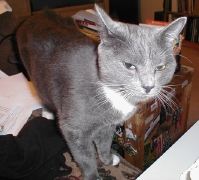 2:23am: Thwok is always quite curious. She'd like to see what I'm working on, please.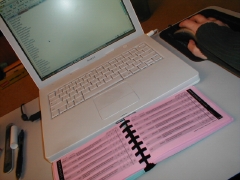 2:57am: Well, I'm doing the same thing I've been doing with just about every spare minute I can find for the past few weeks: getting the HILMMAKS name actor wiki in order. (Yes, this brings the number of wikis we've created to three. All for casting. Each too different to merge. Luckily, I love the geeky work and know that this stuff (which, I swear to GAWD is not a violation of copyright) is going to be a serious master database that I will use forever. It's just the setup that's time-consuming.) Anyway, had I taken any more photos of my life before going to bed at 6:45am, they'd have looked just like this one.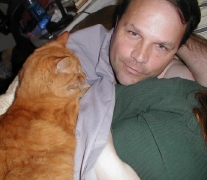 11:45am: One of my favorite things! I will wake up after a few hours' sleep, play a few games on my Palm Pilot (I call it "saving the world"), and then call out to Keith, saying, "Honey? Come be close." He does. And Archie, of course, does too. My furry boys.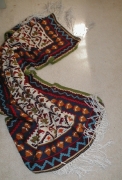 1:35pm: Evidence that there was much PLAY going on as I slept. Do I bother straightening the rug? Again? I know Thwok will just tear it all up again tonight. Ah… it makes her happy. Gotta help along that cause. 😉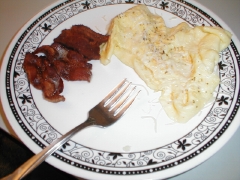 3:09pm: Time for breakfast! I know, my schedule is so dang weird. Anyway, it's two eggs with an ounce of cheese and a bit of crispy bacon. Yum! Love a low-carb start to the day. Really good for the energy-flow!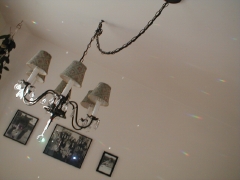 3:50pm: BONUS PIC! This month's bonus photo is THANKFUL. It was hard to choose one thing about which I'm truly grateful, as I spend so much of my life in a state of gratitude. I really have a blast pretty much every moment. And I am grateful for everything I see and feel every day. But the way the sun came in through the west window–hitting the crystal cousin Faith gave us and splattering the walls–was just lovely. So, I chose this as my expression of THANKS.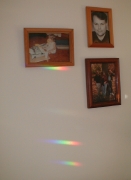 3:52pm: More of the lovely visual effects dancing on the walls.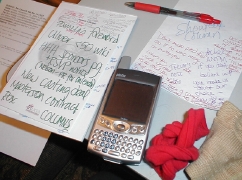 6:15pm: My column is done for the week, so I've let my hair down, taken off my wrist-wrap, and begun reviewing the rest of the day's To Do List. Ugh (even though I do love lists). Still too much. Some of this will be done tomorrow. But most tonight. I am so so so so so glad that I have the kind of life that allows me to earn a living while others sleep.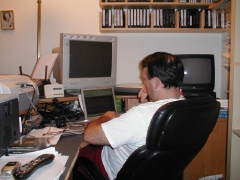 6:20pm: I'm headed to the shower, but I had to get a photo of Keith and his many, many, many computers. You seriously can't see a fraction of them in this photo. Boys and their toys! I tell ya!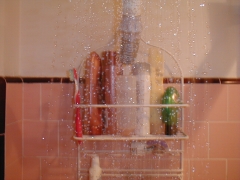 6:33pm: Shower. Ahhhhhhh.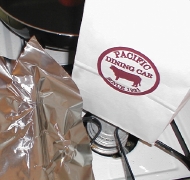 6:44pm: Time for dinner! Leftovers from last night's yummy dinner (takeout from the Pacific Dining Car) at Gimlet Night. Seriously, their Filet Oscar is a thing of beauty. Especially delightful with a Ciroc Gimlet on the Rocks. Hmm… they ARE open 24 hours, aren't they? Hmm… Where are my keys? (Oh, crap… there's that To Do List. Ugh.)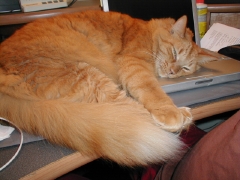 7pm: Final moment of my November 12 of 12… that's the fat cat Archie, like a snake finding its heat rock in its terrarium. His is a PowerBook G4 12″ on Keith's desk (whether or not Keith is working), thankee very much!
Hope you enjoyed my 12 of 12! I look forward to seeing yours too! See y'all next month.
(Visited 59 times, 1 visits today)