Happy 12 of 12! See Chad's blog for details on what this project entails and join us next month, won't you?
Click any photo for a larger version. Enjoy!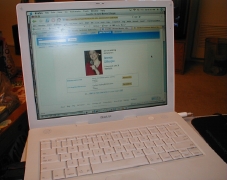 3:56am: I've been up for two hours or so, working on my Eventful page, emailing with Babes McPhee about the staged reading in a few hours and doing 12 of 12. Wondering if we'll take photos of each other taking our 12 of 12 photos.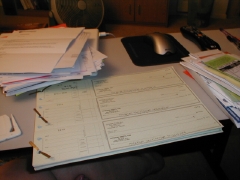 5:06am: Finally paying bills. Stack of trash from opening bills (on the right) is about four times the size of the stack of bills (on the left, on top of my computer (which is why it looks like more paperwork… it's up higher to start with)).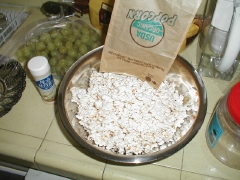 7:13am: Fairly typical Bon breakfast (gluten-free organic popcorn sprinkled with Molly McButter in a flavor they don't make anymore). Now going to write royalty checks to Cricket Feet authors who aren't me. Luckily, 92% of July's check from the distributor was for books I wrote, so this quarter's payouts aren't too painful.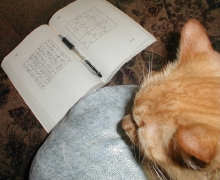 9:14am: Finished a "fiendish" Sudoku and now Archie and I are going to take a nap before the day really gets going. (Yes, this is my typical schedule… NOT typical to anyone but me.)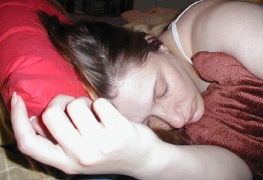 9:38am: Falling asleep for ONE 90-minute sleep cycle (or at least that's the goal). I totally overslept by 30 minutes and had bizarre dreams about being in a play, wearing a gorgeous pink and red satin dress, and then riding on a pontoon boat and having costars trying to get Fred Goss to kiss me.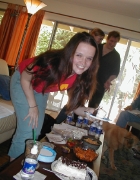 1:15pm: Babes McPhee at the staged reading, slicing up her soon-to-be-famous BunnerCakes for us to enjoy. (Holy crap, that's some good gluten-free, vegan, rich chocolate cake action going on there.)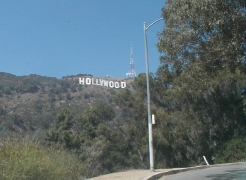 3:01pm: BONUS PIC. This month, the word is HOMAGE and I decided to pay homage to the dream that leads so many thousands of artists here.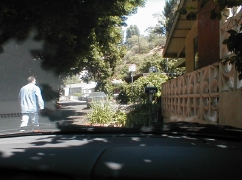 3:22pm: Had to double back to the staged reading location to pick up Keith's cell phone, which he had left behind. I stayed in the air-conditioned car, parked in the shade, thankyouverymuch.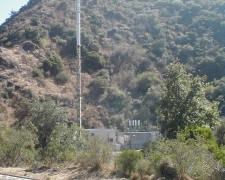 3:35pm: We're on the 405 and I decide to snap a photo of one of the camouflaged power poles. These and the "fake palm trees" that are really gussied-up cell phone towers crack me up.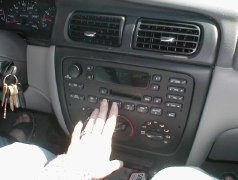 3:51pm: Trying to find something better on the radio. (I am obsessed with how long and healthy my fingernails are.)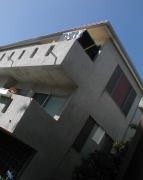 4pm-ish: This is our neighbor's hot tub, suspended above its typical nesting spot on the patio of his $1.3M condo. It was funny, watching the guys crank this thing up yesterday. I have no idea why it's like this or how long it will be this way.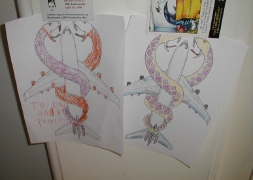 6:05pm: I've finished dinner and email business regarding a bit of casting I'm still wrapping up (no, I still haven't started my column yet) and now I'm headed back to bed (yes, I'll get another 90 minutes then be up all night), but first I must capture the coloring mastery. Quinn and I each did a Snakes on a Plane picture in June, and these are posted on our heater with magnets from Boybutante and AT&T.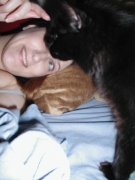 6:20pm: Salema LOVES the naps! She who hides all other times, craves some headbutt-love that is hers for the getting at naptime.
8:33pm: I'm up and editing the 12 of 12 to post. Woo! Another day in the life of me. Hope you enjoyed it!
(Visited 71 times, 1 visits today)