Yo! It's 12 of 12. And I had the most boring day ever (at least in photos–honestly, it was a pretty significant day in terms of the stuffs I can't make public just yet). New to 12 of 12? Visit Chad's site for the lowdown. Want to see my previous attempts, use that 12 of 12 category link on the left margin of the main page. Hope you did your own 12 of 12 and that you'll share with the world! As for mine, let's get to it (click any photo to enlarge).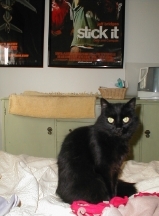 8:15am: Salema is in bed with me, asking me to stay just a little bit longer. "Please," she says. Sorry, dear. Time to rise. But thanks for shacking with me just the same.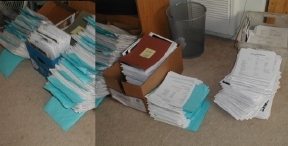 10:45am: Good morning headshots! (Yes, I cobbled two photos.) Wow! There's a bunch of headshots there, eh? (Believe me, that's nothing. I have another crate or two in another part of the room. But it's time to purge. Bless my intern, she's helping make this happen. I must, finally, throw out headshots… and the criteria is getting brutal.)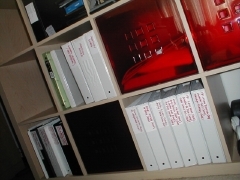 10:45am: Happy casting binders! Seriously, I love love love being organized. It is totally worth the time and effort to get those deal memos, SAG contracts, audition schedules, cast lists, and sign-in sheets filed away in some decent manner. Ahhhh.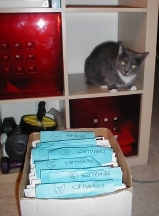 11:15am: Thwok loves it when the cubbies are empty (which is almost never). Notice the chew-marks on the file box. That's what the kitties think of this particular batch of headshots. Rrrrr!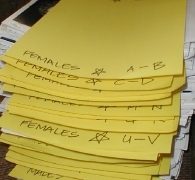 11:45am: My "A-List" actors. This is the file of actors I've cast or who have come soveryclose to being cast (like, we made the offer but the deal fell through or we had to do some sort of recasting for whatever reason). This is my go-to stack, when I need a quick list of "great actor" names. It's more than just the "name actor" list I keep on the computer. It's the actors I know will kick ass… every single time. These are my rockstars (and my hubby has created a Wiki database for me to use in cataloging them all, which has consumed most of my time today… but it's so AWESOME).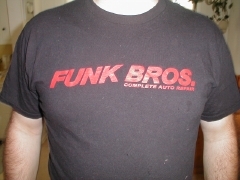 11:55am: Said hubby leaves for gaming and acting class–during the latter of which he'll have to do a comedic scene as an auto mechanic. He's wearing a shirt that was given to us by the folks who fix the TicTac (bless its 17-year-old soul).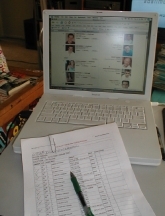 1:20pm: Don't ever let anyone tell you that scheduling actors for prereads is an easy task. I think I'm going to start giving big, wet, sloppy kisses to the actors who get their audition notices, download their sides, confirm their auditions, and just show up and do the damn thing. I'm so OVER trying to reschedule people. (And only slightly less OVER a producer with daily add-ins… but she knows that. *snork* Dude… we now wait 'til callbacks. K?)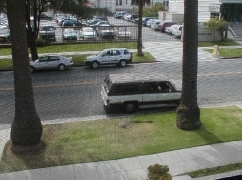 2pm: I've now ordered from PinkDot, so I'm up at the window when I hear a car door slam out front. Nope. Not them yet. But I do spy an example of what will MAKE me go postal someday. Seriously, if you ever hear of me going all gunz-blazing on people for no good reason, this will be why. If you have a large car, PARK IT SO THAT ANOTHER CAR CAN PARK NEARBY. Don't be a jagoff who takes up TWO spots with your own damn self! You WILL feel my wrath.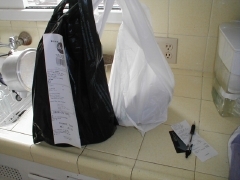 2:12pm: Pink Dot has arrived. Life, she is good. Quick snack then back to work.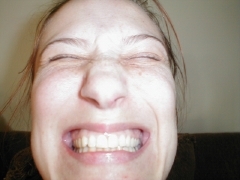 2:20pm: Just got some really good news that I can't even talk about yet (even had to tell Keith to HUSH when I called him about it, b/c he does love to blab sometimes and he does have class tonight, which is a big audience for sharing). This is me unshowered and way too happy. Sooo lovely!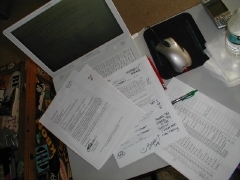 4:44pm: Making notes about the audition sides we'll need for Friday's prereads. Reviewing the schedule, trying not to get stressed out. Feeling good about the sessions. I have happy producers. Just got a fax from the director of another project. Busy Bon.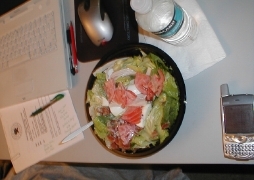 6:15pm: Time for dinner. California Cobb Salad minus the cheese and egg yolks. Yum! Dealing with some rescheduling issues that stress me out, but for a good reason.

7:24pm: This is my official BONUS photo: "BREAK" (and this is "How I take a…"). A GREAT night of TV. Nip/Tuck (thank you, east coast feed) feeds my porn fix, Big Brother is coming soon, and then there's Real World/Road Rules Fresh Meat Challenge Reunion (which my TiVo missed yesterday, bastids). And now, as I upload, it's The Minor Accomplishments of Jackie Woodman, which rocks. Nice cool glass of celebration and looking forward to tomorrow's big-ass cool things!
See? Boring 12 of 12. Maybe next month will rock. Thanks again, Chad. It's fun, even when it's boring!
PS–Happy birthday to my superstar niece Tiffany! LOVE YOU!
(Visited 48 times, 1 visits today)