Hello Bonnie!
It seems so incredibly long since the last time we interacted (and indeed it's probably been a couple of months). In case you don't remember me, I'm the Argentinean who went over to Stella Adler last summer, and then got accepted into the two-year evening conservatory. I was featured in your column a couple of times, specifically in 2010's Your Wildest Dreams.
Briefly, since I moved to New York in January, I:
Landed. Doesn't seem like much, but boy it is.
Learned a ton my first semester at Adler.
Modeled for my friend Emily's blog, Travel and Toil
Participated in Adler's Annual Shakespeare Benefit for Broadway Cares/Equity fights AIDS (my first show in New York! Yay!)
Got my first American headshots taken. I'm in the process of selecting them right now, and I'm so excited!!!
Reconnected with/met a lot of wonderful people.
So, in so many words, life has been good 🙂 As for you, congrats on the Showfax anniversary! Here's to many happy returns 🙂 Also, it seems to me that Cricket Feet is flourishing, so cheers to that, as well. I do hope this email finds you well, that you keep on thriving, and that the rest of your week is awesome.
As always, Mariana, it is a delight to hear from you. I love sharing your emails because you are always so positive and filled with gratitude for the journey you are on. You're enjoying the process, learning from everything you do, and so freely sharing what has you so excited about your life. I love that!
So, I'll use your email as encouragement that others take a moment, look around, and think about all the cool stuff that has been happening for them. Connect the Dots. Make a list of Good News. Share those toys and keep the good stuff flowin'. Heck yeah!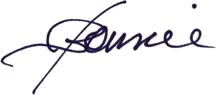 ---
Bonnie Gillespie is living her dreams by helping others figure out how to live theirs. Wanna work with Bon? Start here. Thanks!
---
Originally published by Actors Access at http://more.showfax.com/columns/avoice/archives/001345.html. Please support the many wonderful resources provided by the Breakdown Services family. This posting is the author's personal archive.
(Visited 34 times, 1 visits today)