Hello lovelies.
I just came home from a casting meeting and I'm so freakin' excited!
Why?
Because the magic of *starting* the casting process is one that reminds me that LA starts on a YES.
Here… watch. [SMFA: LA Starts on a YES]
I just love that everyone gets a shot, here. There's no having to do things a certain way to get to show the buyers what you're capable of. There's just being so dang smart about it all that when you get your chance, you're ready to blow 'em away with your professionalism, talent, and grace.
What's it like where you are? Can you find people with whom the YES starting point is a given? Share in the comments with me! I'd love to know.
PS — We're super excited to be bringing back our amazing course SIX WEEKS TO LA (6W2LA) next month! Please be sure you're on our mailing list and keep an eye out for email this week announcing our scholarship contest so perhaps you can join us for FREE! Woo hoo!
'til next time… stay ninja!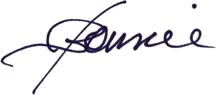 ---
Bonnie Gillespie is living her dreams by helping others figure out how to live theirs. Wanna work with Bon? Start here. Thanks!
(Visited 130 times, 1 visits today)