I love my life.
Yeah, I'm in hour six of this "organizing receipts" thing and maybe I'm slap-happy, but I'm just astonished by all of the beautiful, wonderful things in my life.
As I see receipts from celebration-filled dinner parties, I am thrilled that I had so much to celebrate in 2006, perfect places to celebrate, and amazing friends with whom to rejoice.
Yeah, I drive the same car I bought in 1989, but y'know what? It was in the shop all of twice last year (each time for less than $200) and that beats a car payment ANY day. (And besides, the TicTac is a WAY cute car, even still.)
So, I embrace the bills. Because it meant we had a home in which we could run utilities! And while I enjoy seeing all of the pay stubs from Keith's acting work, my casting and writing work, book sales, speaking engagements, and our random computer gigs that help fill in the rest, I am giddy knowing that there will be still more of these when I'm doing this tedious task again a year from now.
I've learned that staying in a state of gratitude is better than a glass of wine, for this task.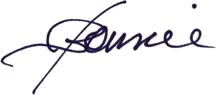 ---
Bonnie Gillespie is living her dreams by helping others figure out how to live theirs. Wanna work with Bon? Start here. Thanks!
(Visited 106 times, 1 visits today)