Being in love is a beautiful, wonderful, blissful thing.
And whenever I answer a meme about my love life, the answer to: "ever been in love?" is always: "constantly." Because I don't know how to NOT be in love.
I love my friends. I love boys… lots of 'em. I especially love my hubby and his brilliant son. I also love all of my best-best friends… and those folks may or may not understand how important they are to me on a daily basis.
Point is, I'm constantly in love. And what the hell can be wrong with that?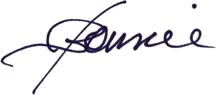 ---
Bonnie Gillespie is living her dreams by helping others figure out how to live theirs. Wanna work with Bon? Start here. Thanks!
(Visited 42 times, 1 visits today)