Okay, so I'm in Day Three of my writer's retreat. I steal off to the desert whenever I have a huge "to do" and need to turn off LA for a while.
I also come here to celebrate things, like a book being printed.
October 2008
So, this trip, I'm churning out *multiple* chapters per day on the 4th edition of Self-Management for Actors and I just had a really awesome epiphany.
See, every edition of the book I've written thus far has come from the same source: All the questions I was asked as I interviewed hundreds of casting directors for my weekly column in Backstage, 1999-2003. Sure, each new edition, I would add in some things based on what had changed in the industry, what I'd learned, all that good stuff, but I would always start from the same SOURCE: what was there before.
Today, as I wrangled some gnarly text in chapter seven that I never really liked — but that had been good enough for Backstage and for three previous editions of SMFA — it hit me: It's a page-one rewrite.
I know, I'd been saying that all along, but when it came down to HOW I'd do my work, it felt silly to NOT use all the great words that were already there, in previous editions. Maybe I could just pretty 'em up? Maybe I could just update a bunch of stuff?
No.
Too much has changed. Not just in the industry, but in me.
And as I worry *every* edition that "I'm breaking what worked in the edition before," I realize I'm just like actors who are sure their best performance was that version of the audition that happened in the car on the way home, only to later learn they've scored the callback.
We're all the same, in that.
And yet we go out and share with the world what it is we were born to create, and that's something most of the population of this planet simply won't do. Can't do.
When the chapter called "Survival Jobs" became "Money Management for Creatives," I realized, yeah… I'm changing a lot in this book, and I'm not afraid of it.
It's my job to get this work done, as you beautiful people spread the word about the campaign here. THANK YOU. And let's ninja on!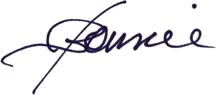 ---
Bonnie Gillespie is living her dreams by helping others figure out how to live theirs. Wanna work with Bon? Start here. Thanks!
(Visited 85 times, 1 visits today)