Y'know, sometimes actors make me beam with pride at their ability to be brilliantly talented, amazingly professional, totally funny, and willing to share their toys. David Nathan Schwartz has done all of those things. Look at his awesome cover letter!
I wanted to share a letter that you might enjoy. It was an invite to my show and an intro letter, which I sent. I actually got an agent, meetings out of it, faxes, and folks who wrote, "Thanks but no thanks. Loved the letter, your poor mom," etc. I followed up the letter with another one telling them about my work, training, etc. (in the meetings I got, I brought in pictures of my mom and family along with my headshot BTW). I even had correspondence going with a couple of folks for a while because of it. Love to hear your reaction.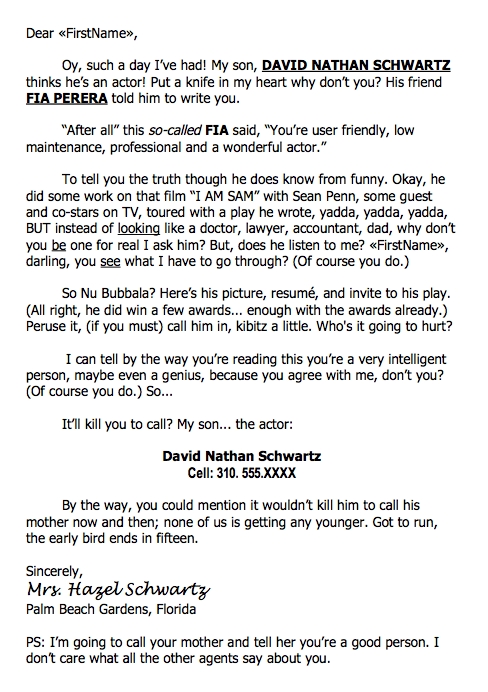 Yeah it is me… and every other Jewish male who has a mom! And yes she is in Florida and that is her name!
My reaction is this: LOVE IT. It's just wonderful and it so sells a "type" before we've even seen your headshot, resume, or your work! Excellent branding, through and through. Keep up the great work and thanks for the share!
Wanna be sure your tools *and* your mindset are in peak form? Let us get you in gear with some FREE training right now!
Yeah, baby!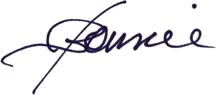 ---
Bonnie Gillespie is living her dreams by helping others figure out how to live theirs. Wanna work with Bon? Start here. Thanks!
---
Originally published by Actors Access at http://more.showfax.com/columns/avoice/archives/000715.html. Please support the many wonderful resources provided by the Breakdown Services family. This posting is the author's personal archive.
(Visited 1,300 times, 1 visits today)