I read your Your Turn about keeping a show bible on target shows that have been cancelled and I understand that all of those people will still work, so there's value in doing the work. But I'm still in school and it's probably a couple of years before I'll need a show bible. Or is there work I could start doing now that would pay off later?
You're wonderful. Thank you for being a port in the storm.
Awesome! Glad you're thinking about the need for a show bible even before you're out in the trenches. You probably guessed that my opinion would be this: It's NEVER too early to start — and to keep maintaining with meticulous detail — a show bible.
Sure, right now, you may only have your professors and your classmates and perhaps a few community players in your neighborhood to track, but outside of your local community, you've got me, you've got anyone whose work you admire and can track (yes, all the way up to your dream storytelling collaborator), because getting that info laid into your show bible is going to be a really great foundation. Why wait?
As I always say, you're building a muscle. Your question is like, "Should I start exercising? I don't really want to be in a bikini until Summer 2016." Um… you should start exercising because it's building toward what you ultimately want. And, sure, it could have benefits even sooner than that. You never know!
Most important for you to remember is that this is not a results-oriented process (although results certainly come from it). You're mapping out the relationships for your entire career, with this process. You're creating a visual representation of your Web of Trust (and of your targets' Webs of Trust).
I know you may be the only one in your circle of friends and classmates doing show bible work every week, so when you try to convince yourself to slack off, try this parallel: "Should I brush my teeth? I don't really plan to kiss anyone for a week." Duh. Brush your teeth. It's good for you.
Good luck with your show bible! Please keep me posted on how it's going for you.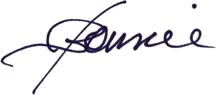 ---
Bonnie Gillespie is living her dreams by helping others figure out how to live theirs. Wanna work with Bon? Start here. Thanks!
---
Originally published by Actors Access at http://more.showfax.com/columns/avoice/archives/001834.html. Please support the many wonderful resources provided by the Breakdown Services family. This posting is the author's personal archive.
(Visited 436 times, 1 visits today)