While on a coaching call the other day, the topic of an agent who "isn't into actors who focus on their brand" came up. Of course, my response was what you'd expect: Agents who don't want to rep well-branded actors have only ever encountered whackadoodle wannabes who *lead* with their marketing strategy, rather than using what they know about their brand and their targets as a means of dropping breadcrumbs down the path for how they are meant to be cast next.
When actors are *smart* about how they use the typing data they've gathered or the target list they've cultivated, they're the "guy behind the curtain," powering up "The Great and Powerful Oz" in front of a world enthralled by the "no duh" nature of how easy it is to find a niche, pitch with passion, or get behind the well-branded actor.
I'll use a comparison from my pole fitness classes. In the intro class (which I often attend, as the "sponsor" of a new pole sister I've invited into the world), we are taught all sorts of fun, flirty moves. The instructor specifically says, "Now, don't go home and say, 'Honey! Look what I learned!' and then show off this move. Instead, find a way to work it into your day-to-day life and then email me to let me know how spectacular the results were."
There's a difference between the actor who LEADS with branding and the (ninja) actor who lets the research, the data analysis, the work hum in the background, while buyers are just magnetically attracted to the charisma the actor exudes. "There's something about that kid," the agent will say. And then there's no convo about brand or targets. There's just enthusiasm for the next tier.
As we continued on our coaching call, I said, essentially, that actors are meant to use their brand information and target lists to build a career up to the point where they're no longer targeting anyone, because they're targeting YOU instead.
Think about it. You know there's value to CAA. You know there's value to working with JJ Abrams. You feel born to be on Disney Channel shows. You know there's value to uttering words scripted by Aaron Sorkin. You're targeting these folks and, hopefully, you've built your brand up to a point where the buyers for these people and these companies *agree* that you're a good fit.
And once you get those first few gigs that PROVE you're a good fit (and that you're low-risk, since you were able to not only land these jobs but also not get cut out or added to the union's "actor delete" form), you find yourself experiencing a gear shift that causes the buyers to target you.
Yup. Someone at CAA brings your name up at a meeting in which potential clients are being discussed. The casting team for JJ Abrams has you on a shortlist. You land a holding deal with the Disney Channel. You score a general with the casting director on the next Aaron Sorkin pilot. Um… they're targeting YOU now.
And that's what you want. That's the goal. YOU do all the brand-building, the targeting homework, the networking, and the "just staying out there" of it all long enough that the tides turn and, holy crap, they're targeting you. You've become enough of a brand — one who's perceived as low-risk and consistent, as well — that you are now a target.
We ALL target our buyers. What I want most for you, in my SMFA work (well, aside from the fact that I want you to be HAPPY on your pursuit, because, really, that's the biggie) is that you target your ass off 'til you become a target.
So, for the truly ninja, if you feel you've done all the targeting homework I've ever advised (Are you sure? There's a lot of it.) then it's time to start paying attention to who it is your targets are targeting. Let's level-up!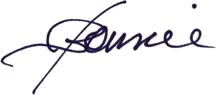 ---
Bonnie Gillespie is living her dreams by helping others figure out how to live theirs. Wanna work with Bon? Start here. Thanks!
---
Originally published by Actors Access at http://more.showfax.com/columns/avoice/archives/001871.html. Please support the many wonderful resources provided by the Breakdown Services family. This posting is the author's personal archive.
(Visited 162 times, 1 visits today)