Congratulations Emmy winners!
As always, our buddies over at CastingAbout have already posted a list of Emmy-nominated and Emmy-winning casting directors so you can continue to fortify your show bible with data *and* build those relationships NOT when everyone else is clamoring to get the attention of these buyers. 😉 Ninja move indeed!
I freakin' love being an Emmy voter. I love screeners (see my highlighted stories at Instagram for a walk through this year's haul). I love the FYC events. I love feeling like my vote matters. 😉
I also love living in Los Angeles, where on some random Monday afternoon headed home from couples counseling (AKA "relationship gym") the hubs points out, "Look at his license plate! Won an Emmy!" while snapping a photo from his phone.
Here's what's worth noting about this situation.
There is no paparazzi here on Wilshire Blvd. in Santa Monica. There's no one shouting at this driver, "Who are you wearing?!?" There's no autograph-seeker. This isn't even what would be considered a "status vehicle" by most measures.
This is just an average dude — probably a writer or set designer or sound recordist or casting director or possibly even a career guest star — driving his car on the Westside, celebrating that he won an Emmy via vanity license plate.
And y'all… that's the truth of it in a factory town like LA.
We're working. We're hustling. We're making a living.
And, yes, we're living our dreams making magic for the masses through entertainment consumed all over the world… and that's amazing! Sometimes we get to hold up gold-and-shiny things and say thank you to everyone who helped make it happen! (Because no one is at this alone — boy, did I dig in on that topic around the 20-minute mark of Sunday's Facebook Live, right?)
But it's not a life of glamour — not even for the fancy famous people, really — 24/7/365. It just isn't. Not in LA, not in New York, not anywhere.
The life of even the average Emmy winner is just pretty much the same as it is before that big life-changing moment. Sure, some doors open easier. Some meetings go more smoothly. Some money pours in to finance your pet projects like never before. Sure. And no one can EVER take away that "Emmy-award winner" label you earned. 😉 That's sweet stuff, y'all!
But I hope you're realistic when it comes to what a lifetime as a creative really looks like and the work required to make it happen every damn day.
Two quickies and then I'm off to Atlanta. No… three things, THEN I'll end today's BonBlast. 😉
1. If moving to LA is on your mind, you may want to dive in on my FREE five-part email series over here at my newly refurbished START page. (Or maybe some of the other cool goodies over here might pique your interest!)
2. We'll soon be closing the doors for The Class of 2018 at Get in Gear for the Next Tier, so if spending the last 100 days of the year jamming with me on the daily is on your wish list, get your booty over here and ENROLL TODAY! (Definitely before Saturday the 22nd, since that's your last chance to get started if you hope to graduate before 2019.) This is a phenomenal way for us to elevate your tools, your mindset, and your entire creative pursuit one day at a time for 100 straight days and beyond! Let's DO this!
3. If you're an Atlanta-based ninja, be sure you hit the EVENTS page over here at my website to learn about the ninja happy hour *and* my talk with the good folks over at Houghton Talent (my first agency, as a kid actor a zillion years ago). We'd love to connect with y'all while I'm in my hometown for my daddy's 85th birthday. Yay! And, ooh… am I gonna eat some fried apple pie at The Dwarf House! You betcha! Tee hee.
Okay, pop your thoughts down here in the comments if you have any a-ha moments to share about "the glamorous life" of an artist! What a great way to live! It's not that different pre- or post- gold-and-shiny after all. (But the hardware *is* pretty nice to have.)
Much love,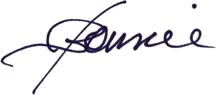 ---
Bonnie Gillespie is living her dreams by helping others figure out how to live theirs. Wanna work with Bon? Start here. Thanks!
(Visited 323 times, 1 visits today)