One of the major reasons for choosing this week's column topic (outside of having just done the workshop at SAG) was that my inbox is always bursting with resume-related questions. Here are some of them!
Hi Bonnie,
I really liked your Confidence article and definitely identify with it at times. I had a quick question about my resume. Before I had a chance to read your on-camera column, I did a two-month stint at the NYFA, and have since auditioned and been training at a reputable school for the last six months. Would it be best for me to take NYFA off my resume? I remember you saying that having an unreputable place on my resume may close some doors. Any advice is much appreciated.
Also, if I was an extra in a professional show, but received some good camera time, is it best to put "featured"? Thank you.
Best,
Anthony Bradford Bisignano
Definitely list instructors rather than the institution if you've trained at any of the less-respected places. That way, you still get to show you've had training, but you avoid the kneejerk reaction that many will have, simply by seeing the "bad letters" on a resume. When we see on a resume any of those "package schools" that pass themselves off as "scouts" in malls, we think, NEWBIE! And that's fine, but if you now know better, your instincts are right about minimizing the damage.
"Good camera time" as an extra is good fun. Family back home can call and tell you how proud they are, having seen you on their favorite show. It's not acting work, though. So it doesn't belong on an acting resume. Calling it "featured" just cuts into the legitimacy the actual contract term "featured" has on a principal actor's resume.
Don't rush to be a principal actor before you're ready. Own the credits you have and build speaking role credits legitimately. Calling extra work "featured" on a resume is telling a lie. Start off on the right foot in the industry by waiting to share your first principal acting credit when you get it, and leave off the extra work, knowing it was a good time, lots of laughs, good learning, and a paycheck. Don't try to make it more than that.
* * *
Hi Bonnie,
I have a question about the IMDb Resume service. I was thinking of using that service but I didn't know if that would be a premature move since I have no credits. I am not sure if it would be a great way to get seen or not. Is this service better to invest in once I have some credits like student films, shorts, theatre, etc.?
Thanks,
Yolanda Allen
I think IMDb Resume is a great service if you already have an IMDb page (with credits recognized and linked up by the IMDb staff) and have a significant number of credits not recognized by IMDb (spec pilots, Internet projects, commercials, stage work, etc.) but certainly recognized and sought out by the industry.
By adding those credits to your IMDb Resume page, you show "what else you've got" that's not showing up on your standard page. (Of course, you can also use the Other Works section of your IMDb page to accomplish this task, even if that's not how the staff of IMDb might prefer to see you use it.)
Basically, if you have no existing IMDb credits, creating an IMDb Resume page is not suddenly going to give you "industry legitimacy." We know the difference between a linked-up IMDb page and a resume page that happens to be hosted at IMDb. It's no different than having your own resume page anywhere else (Actors Access, your own website, any of the online services), so decide if that makes it worth the cost at this stage in your career.
* * *
Hi Bonnie!
First of all, I want you to know how much I am loving reading your columns. I have recently moved to LA and I am finding them to be a tremendous resource! Thank you so much for being so generous and providing us with so much useful information!
One thing I have a question about is: the resume! I moved from a smaller market where I did quite a few small, independent films. I am not sure how much of this to include on my resume. I have heard a lot of people say it's best to emphasize quality over quantity. If this is the case, what is a good standard to use in determining what stays on the resume and what is left off? IMDb credits, the size of the role, whether or not we think the film turned out well? If you are new and you put a lot of "indies" on your resume — do people see that as a valid credit in this market? I would love to get your thoughts and feedback on this topic!
Thank you again for being such a great resource for actors!
Ashley Ledbetter
Let's start with the cold, hard fact that none of your out-of-market credits really "matter" once you've moved to LA. I know that sucks, but it's true so why hide it? 😉 So, knowing that very little of what you're showing on your resume is going to make that big of a difference to anyone here anyway, hopefully that should make your choices of what to keep and what to cut a whole lot easier!
There are some projects that weigh more on your resume than they do on your demo reel (and vice-versa). Some things look GREAT on a demo reel but won't really help you on a resume. And some things won't matter either way, so you can just let go of worrying too dang much about what you do.
If the film turned out great, you should have great tape. Good. That's a powerful demo reel piece and its weight on your resume might not compare. If the project is on IMDb, great. Verifiable work from a minor market. That's awesome. Size of the role is important when you're trying to steer someone toward how to cast you next (if you feel you're leaving the supporting roles behind and headed into LEAD-land, you'd want to minimize those supporting credits), but there's a whole column above about that.
Since everyone will assume that every film listed on your resume (unless they recognize the title and remember having seen it in a theater or on a Netflix list) was an indie or student film (whatever your market), I wouldn't worry too much about how anyone feels about those credits. List them in order of "weight" on your resume and start cutting from the bottom when you book your next gig. It's okay to have credits that make you look "new to town" when you are, in fact, new to town (and even after you really aren't anymore, sometimes). Just make your resume its strongest.
* * *
Bonnie,
Thanks for sharing all your knowledge and wisdom with us. I just learned about identifying the "logline" for an actor. Should I include this under my name on my resume or headshot as long as I know that it is accurate or should I refrain from including it?
Thanks for everything!
The Camarillo Kid
Chris Formby
Your logline is as useful to you as identifying your type is useful to you. That means, do this, learn this, figure this out (write your own breakdown, do your type research, hire a professional, whatever) and then let that inform how you shoot and select your headshots, how your craft your cover letter, which credits to include on your resume, how to edit your demo reel, on which roles to submit, etc.
This is good information to have, as it helps you navigate the waters of this business with a bit more focus. But you never need to tell US your type (or your logline) because we're already pretty sure of what that is just based on seeing your headshot and picking up your vibe. It's what we do.
The information you've gotten is great for informing you in crafting the materials you show us so that we get your vibe most efficiently. Use it for yourself, but don't subject others to it, lest you convince us you're something other than the exact type WE know you to be.
* * *
Hello Bonnie,
I'm a weekly reader and love your column on Actors Access. I appreciate the advice you give to us actors and the fact that your personality shines through and makes for a fun read!
My question is about screen credits and the resume. Last spring I was working as an extra on the TV show Unhitched (previously: The Rules for Starting Over) and was given a Taft-Hartley after an upgrade to a singing waiter. This gave me SAG eligibility and a nice paycheck for the day but is this something I can put on my resume? You can barely see me onscreen and there wasn't much acting, but I was listed as a co-star in the credits (Waiter #3; you can download the pilot episode free on iTunes).
Thanks for your time and feedback!
Matt Clark
Absolutely! You booked a job that came with a surprise upgrade! Yay! And you did the work and got the billing and your Taft-Hartley letter and your SAG eligibility and all sorts of great stuff. Awesome. Yes. That's a "co-star" on your resume. Now, it's a "co-star" you'll want to remove from your resume as you continue to book co-star credits in which you are less on the cutting room floor and more on the screen, but for now, it's absolutely a credit you earned (a verifiable one) and a story to tell, when someone asks for tape of the episode.
"Ah, it was a tiny co-star. No real footage for a reel," is the answer. And some actors hate that answer so much they'd rather just leave it off the resume than have the conversation in which the punchline is "no real footage to use." Remember what I said about where the credit might "weigh" more. This is definitely a case of the weight being its CREDIT, not its footage. The weight is in the tier jump you got to make with your SAG status and of course the paycheck.
Seen or unseen, you were booked (albeit through an upgrade, but that counts and there was paperwork involved, so you know the casting office is aware of it) as a co-star and earned the right to plop that credit on your resume. Congrats! May the next one be an even bigger deal!
* * *
Bonnie,
I've read Acting Qs and learned an awful lot from it. I also read your columns every week and find that you always have new and useful information to impart. I've started to dig into your archives and have a question about something you wrote back in Feb. 2005 about what billing to give on a resume.
I know that every part of the country probably has different interpretations but I'm curious how folks in LA note their non-broadcast roles.
I'm in San Francisco and have done little TV and film work. However, I've done a lot of corporate industrials that are for internal use only. I've also done quite a few webisodes and viral videos. I've asked a few local agents these questions and get different answers from each of them. So, if I was in LA, how would I bill these on a resume?
And what if these projects are filmed but are never aired, whether for film, television, the web, or a trade show? Would you advise to list credits only of projects that were completed? I've done a couple of films that simply ran out of money and have never had any post production work done on them. Is it fair to list them?
Webisodes and viral videos are great to list on your resume and go in the section most closely related to the work you did. For example, if you did an episode of LonelyGirl15, I'd put that in with TV, because it's an episode of an ongoing series. And then I'd note parenthetically after the show's title "Internet." If you did something that went viral at YouTube or Funny Or Die but was pretty much a stand-alone "short film," well that goes in the film section. Again, note that it was for the Internet and include the URL if you have room.
Industrials, trade show work, corporate videos, and non-broadcast projects fall into item six in this week's column, really. Yes, I know you were hired to act and these were acting jobs, but unless you're in a market that has a thriving industrial, corporate, non-broadcast industry, every entry on your resume of that nature detracts from the film and TV work you actually want to pursue. It becomes part of your branding and you become known as someone who is the go-to actor for non-broadcast stuff. Nothing wrong with that, you just have to know whether that fits your overall career goals.
In Los Angeles, that stuff would be taken off your acting resume altogether and if noted at all, placed in the same category as commercial or voiceover work (list upon request). Obviously, in a minor market, that might not be a good Resume Feng Shui move. Of course, remember, you can always have different resumes to use for different projects. In the one you use for film and TV work, minimize your non-film and TV work! The one you use for non-broadcast should highlight that experience and those relationships.
As for projects that lost funding, well, that happens all the time. If you shot the scenes (and hopefully got tape), absolutely keep it on your resume, but remember the rule of listing your strongest stuff first, which would put something like this lower on your list of credits (and first to come off, when you get something better). If you never shot, unfortunately, that's gotta go. Yeah, it's a grey area for some, because you figure you booked the gig and that's a good relationship to advertise on your resume, but the truth of it is, it's a WEAKNESS on your resume to advertise work you never actually did, and I'd save it for a conversation with a prospective agent who wants to know about your industry relationships. He may like to know you booked but never shot, because that's a casting office he can get you into more easily next time. But as for taking up space on your resume (and detracting from the legitimate credits you do have), I'd think it over… and remove it!
* * *
Dear Bonnie,
I have been reading your columns and they are very informative. My son started acting professionally last year. He was cast in a SAG feature film. He did not have any lines because he is an alter ego of the child lead. I read what you said about background and he was given a principal contract. We saw the film his role is actually pivotal to the film and much more significant than some of the roles which were categorized as leads due to the number of lines. He did act without speaking (facial expressions, body movements).
Is there any other way we could have dealt with this so that he could list it on his resume?
Thanks,
Robin Bernstein
Nothing to change! You can already list it on his resume. He got a principal contract and that's the billing for the resume. There are plenty of times a non-speaking role is also a principal one. Think of Paul Dano's role in Little Miss Sunshine, for example.
Only if the work is booked as background (which is usually through a different casting office than the principal players) and paid as background should you feel obligated to treat it as such. This looks like a principal role with a principal contract, and that's how it should be billed! Congrats!
* * *
Hi Bonnie,
I'm Joseph Kim and I attended your resume workshop at SAG last year with Mark Sikes. Thank you so much for your invaluable time. You're as pretty as you are insightful.
I thought you guys were rocking good fun to spend the afternoon with, and I was very much enlightened on quite a few issues. Dare I say that I had never read your columns before? But I spent the whole next two days getting caught up.
I had a question I wasn't able to ask you during the workshop.
I booked twice on The Young and the Restless. The first time my role was cut because there was a shortage of cop costumes that day. However I still booked it and got paid for it though I was told not to report to set several hours before the taping.
They brought me back in the next week, but as a different character: an orderly. I remember you telling an attendee that if you've booked twice on the same show, then you can put down recurring on your resume.
So, I booked twice and got paid twice but for two different characters. Can I still put recurring on my resume? Thanks so much.
All the best,
Joseph Kim
In general, I like the idea of putting any second booking on the same series through the same office with the same crew as "recurring," because it shows you have a history with these folks and they liked your work enough the first time to bring you back a second time. You've booked and shot multiple jobs with these people and that's great for risk management purposes.
However, your first time didn't really "count" (even though you got paid, which is great) and the second time, coming so close on the heels of the first attempt, was almost like a "make up" for the "bad" of not being able to use you the first time. So, I'd be careful labeling that a recurring role, because you never shot the first time. You didn't work with that crew twice. You only went on set once, and I'd go with billing of under 5 or day player, depending on how many lines you had in your day of AFTRA work, of course.
As with everything, the "rules" are a little on the loosey-goosey side simply because there are so many variables and that makes it tough to get overly specific about what to do and what not to do. Someone else could have a similar situation but not the same specifics, and where one of you could get away with saying "recurring" and have backup from the casting office, the other could be seen as puffing up credits and that's never a good idea.
Bottom line on all of this: Trust that you're enough. Be where you are (not where you've been, all career long, and here's a big list to prove all of it). Enjoy the process. And control your own spin by crafting your resume at least as much as you craft yourself!
Wanna be sure your tools *and* your mindset are in peak form? Let us get you in gear with some FREE training right now!
Woo HOO!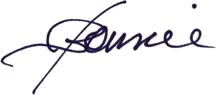 ---
Bonnie Gillespie is living her dreams by helping others figure out how to live theirs. Wanna work with Bon? Start here. Thanks!
---
Originally published by Actors Access at http://more.showfax.com/columns/avoice/archives/000931.html. Please support the many wonderful resources provided by the Breakdown Services family. This posting is the author's personal archive.
(Visited 2,249 times, 1 visits today)