It's no mystery that loads of actors submit on projects that go out on Actors Access, Casting Networks, any of the other reputable actor submission sites out there — and that's on top of any of the agent and manager level submissions that are going on for the projects that are kept more exclusive.
(I've talked about the numbers many times — four of my favorite times are here, here, here, and here, for your reference.)
And actors seem to love to focus on the long odds, the steep climb, the vast numbers. The crazy shot they're taking every time they submit. Truly, it does look baffling… those submission numbers… those long odds to even end up on the "selected" list, much less landing a coveted audition.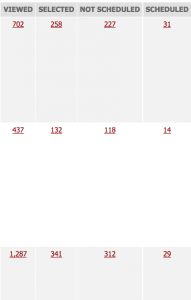 Click to enbiggen.
And then after that, there's the callback. I've already talked about the conspiracy of yes — all the things that go into an actor getting cast. Woof! That's a lot, right?
Actors spend so much time taking a look at how often they submit, how often they go out… but the ratio I wish they'd spend more time focusing on is the one that comes with getting über specific on your type and brand, your targets, and connecting ONLY with those very specific folks… strategically.
Click to enbiggen.
Because when you get very clear on your type and brand, when you identify your primary targets, and when you strategically set out to intersect with them — showcasing at every turn the work you've created that displays your right-fit-ness with exactly what it is that they cast — there's a whole new ratio that emerges.
It's one that has you going out less frequently (GASP! I know! Horrors! How *dare* I suggest you not fling yourself all over town in every direction, several times a day!) but instead going out with more purpose. Submitting less often — in a very targeted, focused, strategic way — therefore going out less frequently, but getting called in by those target buyers to tell stories you were born to tell…
…and improving the hell out of your callback ratio. And eventually, your booking ratio.
This is how you move up a tier, baby. You get purposeful in your tactics.
Start now.
"But Bon," you may declare, "beggars can't be choosers! I'm JUST starting out. I have to take *any* role!"
No.
No you don't.
And the sooner you get out of the mindset of struggling artist, the better. You're building your brand from the ground up, and the earlier on you set the tone for your entire lifetime of storytelling, the better.
Get specific. Be strategic. Because I want you to move up farther, faster.
Let's do this, shall we?
Wanna be sure your tools *and* your mindset are in peak form? Let us get you in gear with some FREE training right now!
Woo HOO!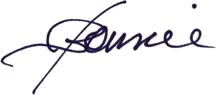 ---
Bonnie Gillespie is living her dreams by helping others figure out how to live theirs. Wanna work with Bon? Start here. Thanks!
(Visited 1,405 times, 1 visits today)