All right, beauties. Get ready for greatness.
Last week during a private coaching session, I pulled up the websites and social media accounts of several ninjas around the world who are doing a lot RIGHT. I wanted to show my in-house client some living, breathing examples of how to blend your real life, your actor life, things that matter to you at your core, while always, always presenting things in a way that teaches buyers how to cast you.
(Obviously, websites and social media profiles change over time, so you'll note when you're visiting this story in the future that you may be seeing something vastly different than what was posted in 2018.)
As I scrolled through Alex Collins' Instagram feed, I pointed out the pattern of real life, actor life, inspirational role model life (repeat, repeat, repeat) in the posts and we talked about color unity and engagement strategies… and then I saw a vid nestled in the posts that made me take a shot, make a total assumption about what we were about to see (just based on what I know of Alex's talent and smart targeting), and say, "Ah, here… this is going to be him acting #SoOnBrand and there's no doubt how you're meant to cast him when you see something like this…"
…and then I hit play.
Here. You hit play now too.
Right?
Holy crap.
First off, good job, Alex.
Second, um, what a fabulous idea, intercutting the audition footage with the finished product.
This reminds me of two things I've always loved sharing. One, by the time you have sides with which to audition, those pages have made it through a lot of tweaking, rewriting, editing. They have been HIRED and you have not yet been hired. So respect those words on the page. Don't change a syllable. Two, there *is* something you must bring to your audition that is so much more than what is written on the page.
This vid from Alex's Instagram feed really showcases exactly that blend of factors — along with myriad others of course — that go into being cast.
What inspiring things are you seeing out there online, lovelies?
Pop your finds in the comments below! I'd love to showcase some of the brilliance you've got cooking so it can inspire more folks to bring their best to the self-tape, every damn time. 🙂
Wanna be sure your tools *and* your mindset are in peak form? Let us get you in gear with some FREE training right now!
Rock on, rockstar!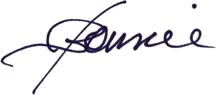 ---
Bonnie Gillespie is living her dreams by helping others figure out how to live theirs. Wanna work with Bon? Start here. Thanks!
(Visited 786 times, 1 visits today)