Keith and I became engaged on December 15, 2001. We called off the big wedding we had scheduled for October 12, 2002 due to all sorts of reasons having nothing to do with us and everything to do with expectations, family obligations, and other people's opinions about how our lives should look. Choosing instead to focus on how we FEEL, we knew there would be a day we'd wake up, look at each other, and say, "Today?" "Yeah!" and that would be the day we got married.
On June 16, 2005, Keith and I stood between two trees on the bluffs overlooking the California Incline in Santa Monica. Random spot… chosen due to its proximity to our home. We had told a dozen friends to come meet us at sunset somewhere a few blocks from where we live. We weren't more specific than that because this private ceremony wasn't meant to fulfill anyone's expectations for what our relationship should be.
Each of our friends — couples in showbiz, role models who showed us that it IS possible to partner up in this industry and thrive in love and business simultaneously — brought a flower that represented something about OUR relationships with one another. Keith's beautiful son was our best man.
The ceremony was over in seven minutes. Our vows were simple: 1. Always trust we have one another's best interest at heart. Because that way, even when we're fighting, we know it's because we want the best versions of ourselves to endure. We'll always fight FOR something, never to tear anything down. 2. Always go for the funny. Because OMG, if I leave an opening, you've GOTTA take the shot! If we're not laughing, it's over!
13 years today. 17 years together. Most of it, 20 hours a day in the same space, building our empire and leaning into our best selves, always surrounding ourselves with joy and laughter.
As I write this, Keith and I are enduring some of the most stressful experiences we've ever faced. All the bliss of sobriety, wealth, weightloss, fitness, changing the world with our work… it's freed up space for us to do deep, inner healing we never realized how much we needed. Me, on my repressed rage over childhood trauma and addictions and violations I said were no big deal. Keith, on his decades of untreated PTSD. Some days, the best we've got is a quiet walk to the beach, holding hands and saying, "I'm here. I love you. That's all I can offer right now."
And that's everything.
I know we'll look back on this period of growth as some of the most important work we've ever done and I know neither of us could do it without our partnership to make it possible. We are stronger together than we are on our own. By a longshot.
I love you, honey. I love us. Thank you for being my best friend. #RelationshipGoals #HappyAnniversary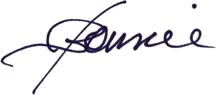 ---
Bonnie Gillespie is living her dreams by helping others figure out how to live theirs. Wanna work with Bon? Start here. Thanks!
(Visited 326 times, 1 visits today)