Hello you beautiful people!
One of the major players in our month of free Self-Management for Actors training we called "SMF-mAy" was the concept of your true north.
If you don't know what I'm talking about, please watch the kick-off vid to that free training series right now. It's a game changer and the work of setting and continuing to navigate by way of your true north makes all the difference in what you say yes and no to, along your creative path from here forward.
No matter what business you're in, there's a time for coming up with ideas, for spitballing concepts, for exploring all the creative ways your story can be told… and during that incredibly fertile and exciting and possibility-filled time, there's one major rule.
No suits.
In showbiz, what that means is, you've got the writers room. It's where magic happens. It's a creative incubator for story arcs, brilliant buttons, and the lines audiences remember for a lifetime sometimes.
It's a safe place.
There are, of course, these people we call "suits." They're the network execs. The studio execs. The financiers. The money guys. They are suits. Their zone of genius has NOTHING to do with the kind of "yes, and…" action that happens in the writers room. In fact, these guys are freaked the eff out by the creative process — and by creative storytellers — as a whole. They don't understand humans who want to build worlds out of words or who want to inhabit other people for a living. This makes no sense to them.
This is why they have to wear suits. They don't know how to have the same kind of hands-in-the-clay fun that we get to have for a living. That's okay. Their job has the upside of a steady paycheck and all the privilege we, as artists, don't often get. So, don't feel sad for them. They're FINE. But here's what they are never invited to do:
Enter the writers room.
While we're in the writers room spitballing story ideas, we are NOT accepting notes from the network suits. Period.
Yes, OF COURSE there will be a time when we need to be sure we're on budget, we can get the star we've written the scene for, we can actually do that helicopter special effect, or whatever… but DURING the creative idea-weaving part of things is NOT when we take those notes.
I bring this up because I see a lot of creative people shoot down their own brilliant ideas because, "Oh, that'll be hard," or, "I won't be able to afford that," or, "I don't know anyone who can help me make that happen," and so on. Basically, you beautiful creative people have an uncanny knack for becoming your own network suits, and you invite those wet blankets into the writers room at the most crucial part of the creative cultivation process!
Don't do that!
Don't shoot down your own brilliance by being pragmatic when it's not time for pragmatism. That time will come.
Suits eventually DO get to give their notes on whether or not anything the writers have cooked up is actually possible, do-able, on-budget, or even aligned with the network's politics and agenda. But that meeting happens way LATER. Don't let any suits — especially not the ones in your own head — mess with the important true north intention-setting I've asked you to do.
It's not time to hear them at that stage.
Now get to spitballin'! There's a creative dream or ten to craft! 🙂 The world is counting on you to set your true north and then get on the road to it.
Comments are open just below if you need my help.
All my love,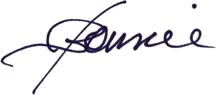 ---
Bonnie Gillespie is living her dreams by helping others figure out how to live theirs. Wanna work with Bon? Start here. Thanks!
(Visited 1,319 times, 1 visits today)