Last week's Your Turn from the actor who had a meeting schedule with a director who was asking inappropriately personal questions in the pre-meeting phoner got the attention of quite a few readers who wanted to stress the importance of making a SAFE CHOICE where such "opportunities" are concerned. This email said it most simply.
Re: Creepy producer, the best advice is always to listen to your gut and/or the hairs that are standing up on the back of your neck. People overlook these cues… talking themselves out of the flee instinct. Just like you mentioned… to sometimes disastrous results.
I highly recommend the book The Gift of Fear by Gavin de Becker. I saw him on talkshows years ago and never forgot him. His security firm, Gavin de Becker & Associates has a Facebook page.
A fan of yours,
Janna Morrison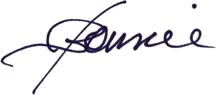 ---
Bonnie Gillespie is living her dreams by helping others figure out how to live theirs. Wanna work with Bon? Start here. Thanks!
---
Originally published by Actors Access at http://more.showfax.com/columns/avoice/archives/001543.html. Please support the many wonderful resources provided by the Breakdown Services family. This posting is the author's personal archive.
(Visited 42 times, 1 visits today)