This is not a piece about how Talent Meet Rep, LLC — a company doing business in Los Angeles, New York, and virtually in several other markets ostensibly for actors all over the world — appears to have been caught red-handed providing copy-and-paste feedback on actors' taped auditions… feedback that was supposed to be uniquely written by DIFFERENT casting directors for each and every actor's unique performance.
This is not a piece about how that same company is now coming under fire for allegedly selling these virtual auditions with feedback — at anywhere from $45 to $120 a pop — for actors to get their self-taped footage in front of casting directors WHO HAVE NEVER EVEN HEARD OF THE COMPANY.
This is not a piece about how that means this company was not only baiting hopeful actors into believing that their auditions would be seen by casting directors who otherwise are very tough to get in front of, selling them these high-priced slots, and providing manufactured feedback on behalf of casting directors who say they've never agreed to do business with TMR, much less provide this feedback to these actors but in fact possibly committing potentially a half-dozen highly illegal (and at the Federal level, y'all) acts… all the while being bonded under AB 1319 (the California law that protects actors from this exact type of scam, among others).
This is not a piece about how similar laws MUST come to exist in other thriving entertainment industry markets (no matter how small they may be), nor is it a piece about how when something appears too good to be true… well, you know how the rest of that saying goes. It's also not a piece about how there's a special place in Hell for those who prey upon artists' dreams.
Nope.
This is a piece about how quickly this all went down in recent days.
This is a piece about the acting COMMUNITY and its ridiculously brilliant power.
And hopefully, this is a piece that will fire you up to be even more connected with your fellow #SMFAninjas (or other community of choice) because it is only through our sharing that this shit gets shut down with near-instant precision.
So.
First off, let's be clear that everyone is looking for "the edge." I shake my head about it constantly because — as I've always said — success in showbiz is like success in fitness: It takes hard work and discipline over time. Period.
But that doesn't stop actors ranging from "fresh off the bus, starry-eyed newbie" all the way up to "knows a scam when she sees it, has been around the block, but MAN what a great opportunity this looks to be" from falling for scams. I can talk 'til I'm blue in the face about how relationships take time, how edges are not BOUGHT, and that many legitimate (but less sexy) ways to get farther faster in this business exist.
Doesn't matter.
Everyone wants the edge.
And predators know that. And they know exactly what to say to get you to take their bait. Worst of all — in the case of TMR — we've got a company that seems to have been doing a really nice job of getting actors in front of casting directors and agents and managers, allowing them to build relationships in a not-at-all-illegal way, and then someone got greedy.
Someone saw a chance to take this shitshow online and get away with fraud. I'm imagining the lightbulb moment that someone must have had wherein they decided, "Hey! Who will ever know?!? No actor's gonna get mediocre feedback and share it with other actors! They'll NEVER know we're manufacturing it and recycling it. Heck, the reel-scene production companies do this with their scripts all the time and no actor ever catches on… because narcissistic actors don't watch each other's reels. They'll never look at each other's feedback!"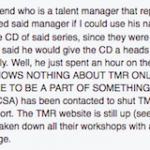 After that worked for a while, they decided to offer the feedback on behalf of casting directors who've never even *heard* of Talent Meet Rep, LLC. "Hey! Who will ever know?!? We'll tell 'em they cannot put the CD's name in the YouTube audition and we'll tell 'em they have to take the vid down right after it's been watched. We'll tell 'em it's because of a confidentiality deal with the studio for which the casting directors cast. And we'll make it a high-value target who otherwise never does workshops — so EVERY actor is hoping to get in front of her. And we'll charge more because of how exclusive this opportunity is. Perfect!"
And some asshole actually went to bed that night with a smile on their face, so very pleased to have come up with the perfect crime.
A crime against the dreams of actors who — unlike the generations of actors before them — have joined communities. Who connect with accountability buddies. Who have meetups and hangouts and Skype sessions and mastermind calls and Facebook groups and group chats and, and, and… ACTORS WHO HAVE COMMUNITIES.
So when the inevitable sharing commenced, things came together fast. When tech-savvy actors who use trackers to see clickthroughs on links they've emailed can see that the one and ONLY click to a YouTube vid came from the email sitting in the inbox of the TMR email account (and not ever a casting office's server) mention that this seems… odd, fellow actors started pulling up their feedback from previous purchases and… whaddayaknow. Identical. Now? This shit got going lightning fast!
Because these actors CARE about their community. They know they may never get their $45 or $70 or $85 or $120 back (or far more, if they bought multiple allegedly fake audition feedback opportunities from Talent Meet Rep, LLC). They know they may look like fools for stepping into the light about how they got scammed. They know there's a risk that the industry may perceive them as difficult for speaking out. They know the downside.
And yet they *do* speak out. Why? Because if they can protect one fucking other actor from ever having to be scammed like this, it was worth it.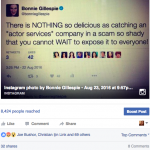 See (and share) the Facebook thread.
I've always said: Don't WORRY about identifying the PEOPLE who are scam artists; identify the BEHAVIOR. Because once you identify behavior, you can see it in anyone — even someone who previously was keeping his or her nose clean and offering a legitimate service. Running PEOPLE out of business is like playing whack-a-mole. There will always be another rodent-like-mammal popping up and you're never gonna be able to get 'em all knocked out and shut down.
But if you can educate others as to what to LOOK FOR when making decisions about where to spend their hard-earned money (and much more importantly, the DREAM POINTS they cash in when choosing to believe in ANYONE in this business), there's hope for the future. There's a chance others won't make the same mistakes or fall for the same lines of bullshit.
Sure, someone will always come up with a new way to separate dreamers from their money… or their belief in others… or their very dreams themselves. But thanks to our communities, they won't get to do it very long before word's out and those who are willing to listen will make better choices. And speak up as well when they don't.
There's hope.
With spreading the word, there's always hope.
Wanna be sure your tools *and* your mindset are in peak form while connecting with a community that's always got your back? Start your FREE training today!
Let's DO this!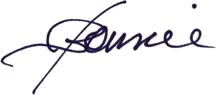 ---
Bonnie Gillespie is living her dreams by helping others figure out how to live theirs. Wanna work with Bon? Start here. Thanks!
(Visited 540 times, 1 visits today)