Hi Bonnie-
I read your column every week and wanted to say thanks for all the info you've shared. You and Mark Sikes have really unveiled many of the mysteries of the casting world!
This week you clarified questions about gimmicks and self-marketing and I had a comment. Regarding the following topic, people/friends/family "representing" talent… you say it doesn't work, but all your readers saw that it DID work… okay, maybe the guy really has credits and talent, but you suggested that all the calls and fibs were hurting his reputation… but we note that you called him in THIS WEEK for an audition. That's what we all want so it did seem to work…. Thoughts?
Warm regards,
Tansy Alexander
Hi Tansy. You're totally right. I did give the impression that, ultimately, this guy's "fake manager" ploy "worked" for him, because it did get him in the room for an audition with me. But here's what I left out.
I have known this actor's work for several years now. I was casting consultant on a PSA a few years back (one role) in which he had already been cast. So, I knew his work from seeing how that PSA turned out. He was already on my radar just because of that.
And now, for two solid years, I've received calls from his persistent (and clueless; I mean, the guy will call me three times in one day to pitch this one actor on three different projects I'm casting, rather than keeping up with the fact that he's talking to the same CD and getting all of the pitches in at once) "manager" and, if anything, it has only served to turn me off… way off.
This actor actually got called in on this role last week because he had a shot at it. (Not a great shot. But a shot.) And he got called in in spite of those annoying pitch calls, absolutely not because of them.
So, I caution you against seeing the punchline — "he got called in" — as a reason to believe the fake manager gimmick works. Certainly, you will find cases where it does work. And you will find anecdotal evidence like what I'm giving you, that sometimes the actor will get a shot despite the gimmick. But that shouldn't fill you with confidence that you should run out and try the same thing.
Because, see, this actor might've gotten called in sooner or more often or into more offices in the past few years without that fake manager gimmick. We'll never know for sure. But it's not worth it, in my opinion, to let anything but your professionalism and talent speak for itself. Gimmicks are often risky… and I hope my columns covering them served more as a cautionary tale than an endorsement of more than a few select tricks I detailed.
Hope that helps clarify my stance on the matter. And thanks again for writing in — and for reading each week! Mark and I appreciate it!
Oh, one last bit of business. Last week, I mentioned a checkbox actors could select to allow their profile to be featured on the Actors Access main page. Actually, it's a little more complicated than that. (The checkbox I was remembering seeing is on the admin side, which the wonderful Bob Brody showed to me on an office visit once a few years back.) First, actors need to download the release form here (that's a PDF). Send that puppy back as instructed on the form itself and then your profile (headshot and/or demo reel footage) will head into rotation. Easy as pie! Thanks for the point of clarification, readers (and Bob). Y'all rock!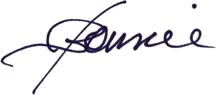 ---
Bonnie Gillespie is living her dreams by helping others figure out how to live theirs. Wanna work with Bon? Start here. Thanks!
---
Originally published by Actors Access at http://more.showfax.com/columns/avoice/archives/000835.html. Please support the many wonderful resources provided by the Breakdown Services family. This posting is the author's personal archive.
(Visited 45 times, 1 visits today)