Hi Bonnie!
Although I love all that you share through The Actors Voice, the "pumping up credits" issue really struck a cord with me.
Currently I have three television credits listed on IMDb but no film IMDb-worthy credits yet so I had listed my additional credits for the four short films I've done.
Although it's not the "40" you mentioned your client had, I decided to delete all four that I had and remove the mental clutter and replace it with being in the space of trusting I'm enough with what I have right now.
Now for a question regarding resumé listing on IMDb vs. IMDb-Pro: IMDb has a resumé tab you can click to review my resumé but I don't see that feature on the IMDb-pro so I added it manually to the education/special training section. Do you think that's necessary?
Thank you for all your amazing wisdom and helping me to be more ninja on my journey as a storyteller.
Hugs & Love,
Tara 🙂
Yay, Tara! You are such a rockstar! Trust that you're enough! Definitely! 🙂
The credits on IMDb (not IMDb-Pro) that you add (including training and such) will only show up if the fan (and I say "fan" because pretty much every *buyer* has an IMDb-Pro account) clicks to see the resumé feature. But it'll be right up there, front and center, for those who have IMDb-Pro accounts (your buyers).
Definitely there's a difference between four non-IMDb credits and 40. For sure! And if there's a couple you're crazy about, keep 'em! 🙂 But just remember, we're always showing the buyers how to see us. The confidence you show when you share the BEST goods is truly ninja!
Rock on, rockstar!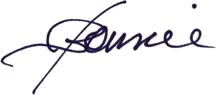 ---
Bonnie Gillespie is living her dreams by helping others figure out how to live theirs. Wanna work with Bon? Start here. Thanks!
---
Originally published by Actors Access at http://more.showfax.com/columns/avoice/archives/001889.html. Please support the many wonderful resources provided by the Breakdown Services family. This posting is the author's personal archive.
(Visited 76 times, 1 visits today)