This isn't the "post Pacific Pole Championships post" in which I talk about volunteering for this spectacular day of motivation, and then brag on Danielle for her amazing routine (and her third-place medal), or on Kelli for her beautiful "love yourself" choreography and pole work, or on either of them for being such freakin' inspiring people in my life. (You can read some of that journey, here.)
This also isn't the post in which I get to brag on myself about the major differences in my life since upping my sessions at The Pole Garage to twice, sometimes thrice per week. The differences are gorgeous. The pace of advancement is impressive. That post is coming later.
What this post is, is just a place for me to share a bit of brilliance that came out of my mouth in Thursday's class (which I repeated in today's class, to the same reception), when one of my classmates had hit a wall and was filled with emotion (emotion I remember very well from my first few weeks of pole classes). I was explaining why the advice to KEEP GOING is so effin' important, in this.
I may not have this trick in me today, but there's a future version of me who's a badass at this, and I can't wait to meet her.
The only way to meet her? That's to keep going. And so I do.
So should you. 😀
Stay inspired!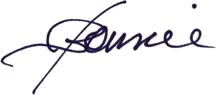 ---
Bonnie Gillespie is living her dreams by helping others figure out how to live theirs. Wanna work with Bon? Start here. Thanks!
(Visited 70 times, 1 visits today)