So if you thought last week's BonBlast was weird…
let's go for surreal today.
Before I get into it, a quick share: My neighbor, Steve — a below-the-line crew guy specializing in multi-million dollar budget commercials — has this thing he says EVERY time I see him. Monday morning, as I headed to my private Pilates session, was no different.
"Hey, Steve! How's it goin'?"
(Looking around, up at the sky and all that surrounds us.)
"Ah… it's another day in paradise!"
And of course, he's right.
He's been saying this to me for the more than 14 years we've been living here at the beach. I'm sure he says it to everyone and has been saying it for a lifetime.
I love it because it always reminds me that life truly is beautiful, even when the surreal shit goes down. Even when there are struggles. Even when there's very real pain.
My mother used to drop me off at school every morning and — as I'd get out of her car — she'd say, "Make it a good day!"
Not, "have a good day." MAKE IT a good day.
A beautiful reminder that my worldview would have more to do with what kind of day I would have at school than anything else and that my worldview is mine to choose, mindfully. (Tweet it.)
So, Keith is still in Hawaii with his sister, wrapping up a week of connection including the ceremony of scattering their teenaged nephew's ashes. It's been a somber time in his complicated family and everyone's been in good spirits considering the main focus of the trip.
On Sunday, word came in from Sacramento (where Keith grew up) that their brother (who obviously was not in Hawaii for the services) was murdered.
Now, no one who knew Keith's brother ever pictured him dying peacefully in his sleep at 100, surrounded by grandkids and great-grandkids and such. That's just not the lifestyle he'd chosen. Keith and I have joked our whole time together about making sure to watch COPS so we can see which of our family members might show up on an episode first.
It's our dark humor that sometimes gets us through… but its our sunny worldview that really makes all the difference.
Because even though this is news that takes your breath away and makes you wonder what the FUCK kind of energetic weather system is in play for the timing of all this at once, it's also so very clear that this was meant to happen precisely when Keith and his sister are together, surrounded by cousins and kids who grew up with their nephew, celebrating his life and able to connect fully as bits of news come in from the police and witnesses about their brother's attack.
Ah… it's another day in paradise.
Make it a good day.
I'll ask you whether such phrases are a part of your mindfully-chosen worldview. Or do you find yourself talking about things in more fatalistic terms?
Our self-talk — and our talk about what we're going through, struggling with, suffering from — is powerful stuff. And it's as simple as starting by talking about what we're experiencing, what we're dealing with, what's happening around us instead.
Notice those simple shifts? They're so worth cleaning up, if your self-talk is more like the first three than the last three I just listed off.
How's your self-talk, ninjas? Comments are open just below. I'd love to know some of what you catch yourself saying… and how you can brighten it up RIGHT NOW.
No, it won't make a difference overnight… but it will shift some things in some pretty powerful ways over time.
Now, get out there and make it a good day.
All my love,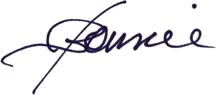 ---
Bonnie Gillespie is living her dreams by helping others figure out how to live theirs. Wanna work with Bon? Start here. Thanks!
(Visited 292 times, 1 visits today)