I have a question for you.
It's about your setpoint.
Do you believe that someone is always running game on you? Out to get you? Taking advantage of you?
Or do you believe that everything is always working out for you? That even if something doesn't go the way you want it to in the moment, the long-term best for you is what's happening?
Here's why I ask this: Over the past few weeks, we've had a CRUSH of customer service emails. Like, three times the volume of what we generally receive.
No surprise there; we advertised for the first time, invited hundreds of new people into our world, held a TON of free live trainings, and welcomed in the first class of 2020 for our enoughness membership.
That's a lot of activity and with activity comes questions.
And while questions are expected, it's fascinating to see the difference in tone.
Among the FAR more innocuous and typical, "I can't seem to get my download of your audiobook to work. Please help?" (the fix is easy, BTW. We even spell it out right on the page from which you buy it. You can't download it on a gadget, only on a computer using a web browser. And many people exhaust the link by trying so many times ON a phone or a tablet, which won't extract a ZIP file… which we explain on the sales page itself… so… yeah), there are also the, "You've stolen my money. This link doesn't work because you're a crook. You're withholding something from me. Tell me EXACTLY why this is happening and what you're going to do about it," ones. There's, "Someone's getting a better deal than I am; defend that to my satisfaction." And there's, "This reminds me of that one time someone ELSE did me dirty so that means you are too so you will PAY for my falling for it again," which is truly confounding. Because different people. Different circumstances. Different time in life. Different YOU going through it all.
Yet when we are certain we're getting the short end of the stick, we have VERY strong muscles for going right to the accusation, right to the, "See! I told you the world is filled with bad people doing bad things TO ME!" mindset… and we choose to be blind to the evidence that none of this is what's *actually* going on.
It's a phenomenon called willful blindness (and there's an amazing book on this subject if you're a geek like me and want to read more from Margaret Heffernan about all the things our brains will discount, disregard, and simply NOT SEE out of simple evolutionary efficiency). BTW, we ALL engage in this at some point in life.
I prefer pronoia as a setpoint, personally. This is the opposite of paranoia (everyone is out to get me) and instead focuses on all the ways things are working out for me.
If someone is running late for our meeting, it's not because they have no respect for me or think my time isn't precious; it's because I needed more room in my day to reflect on things, write in my journal, or just observe the view.
If my order arrives and it's one item short, it's not because the online seller is trying to cheat me; it's because there was a human-to-human exchange I was going to have as I took a moment to call customer service that led to not only the omitted item being sent out but a $50 voucher for my next purchase as a thank-you for my patience.
No one is out to get me. No one is doing me dirty. When bad things happen, there's a reason that always leads to something more beneficial in my life… even if that punchline takes a while to land.
If you're not at the pronoia setpoint — and perhaps you're leaning more toward willful blindness about most things and that's getting frustrating — here's the first step to soothing this a little bit.
Start by doing some dispassionate labeling.
Instead of, "Woe is me! That big company is trying to screw me!" try, "Uh oh! Someone slipped up. There's a missing item in my order." The latter has no emotion tied to it. It's dispassionately labeled. It's just a thing.
Sure, it's a mild inconvenience… but it doesn't mean someone's out to get you (and this is true even if it's MORE than a mild inconvenience, honestly).
By staying present in the moment, not catastrophizing, labeling dispassionately, and then taking the next right action for moving in the direction of resolution, we go from being people who believe we have no control in the world or in our lives to being people who know we have a LOT more impact on how we feel — no matter WHAT is happening in our lives — than anyone else ever could.
Do you have an example of pronoia at work?
Do you want to be less practiced at willful blindness?
It's a bit of evolutionary rewiring we're doing with this work, but it's so worth it!
Before jumping in on ANYthing for which you're feeling a strong reaction bubbling up, take a moment, count to 10, breathe, and ask yourself, "How may this be working FOR me, not against me?" THEN take next right action.
You'll thank me for the beautiful muscle this will help you build.
Let me hear from you on this! Comments are open just below.
Rock on,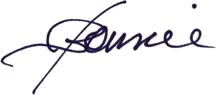 ---
Enoughness is an inside job… and sometimes you need a guide to find your way there. Let Bonnie Gillespie get you started.
(Visited 366 times, 1 visits today)