I've been married seven years.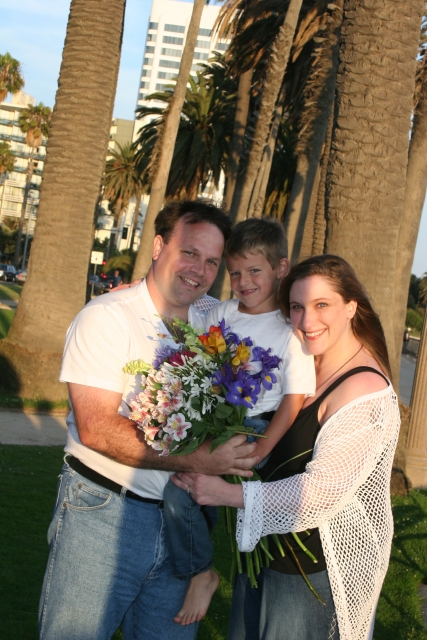 I have to say, no one is more surprised than I am about this.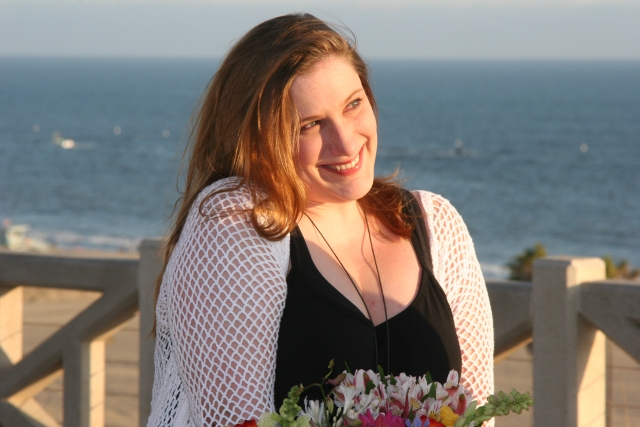 Not because of any of the "easy comedy" stuff, like, "Well, being married to Keith *has* to be tough," or anything, but because — and most folks who knew me "pre-Keith" would agree — I never seemed like the marrying type.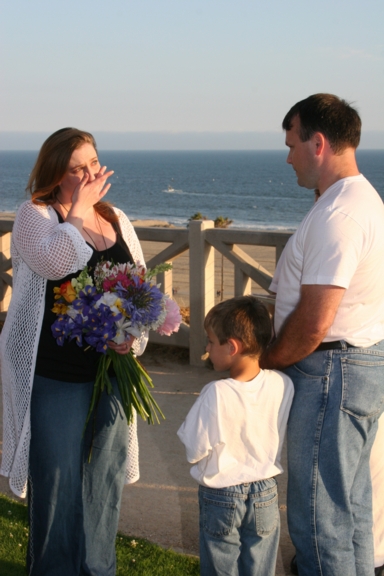 I was militantly single. I was good at being single. Heck, I'm actually still quite good at being single, but I don't choose to be. Instead, I choose to fall in love with Keith every day.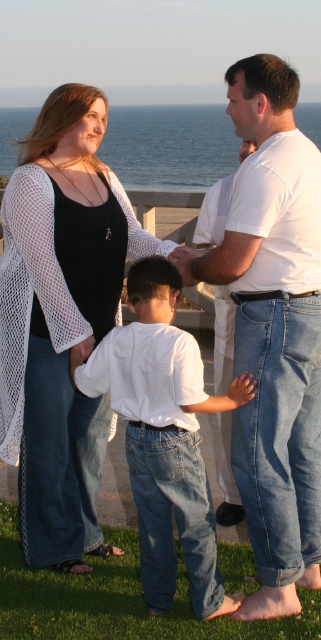 At sunset yesterday, we (Keith, Quinn, and I) walked to the bluffs where, seven years ago today, the three of us stood as Keith and I exchanged the vows: "Always trust we have each other's best interest at heart… and… always go for the funny." Seven years ago, we were encircled by our very closest friends — each in loving, successful representations of "Hollywood marriages," as we wanted to celebrate that it IS possible to be healthy, in this business, and partnered — and in a ceremony that took just a few minutes, I became a Mrs., although I never took Keith's last name.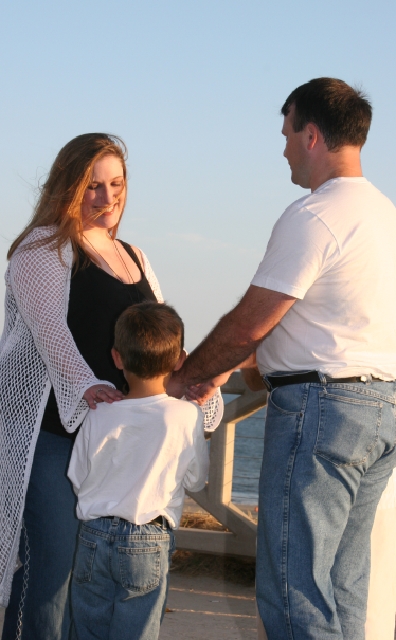 That wasn't some show of rebellion or need for independence, but a sign of the times. Most women I know who have established their careers and who made a name for themselves, single — especially if they've published works academically or professionally — keep their names. In fact, I have very few married friends who have taken their spouses' names.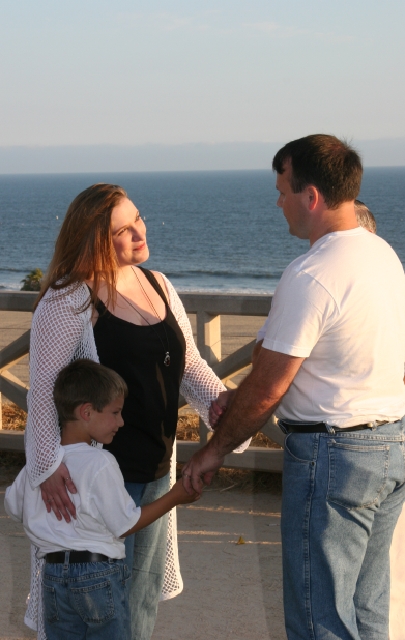 Anyway, as the three of us stood on that exact same spot, yesterday, we hugged just like we did after Keith and I said, "I do," seven years earlier. Keith and I looked at each other and got teary-eyed, just like we did seven years before. Quinn asked, "What's wrong?" and Keith said, "I'm having an emotion." Quinn then threw his arms around us and hugged tighter. I thought to myself, "My goodness, next year when he hugs us, he'll be taller than me and possibly as tall as his dad." Then I thought, "Oh, man. I hope he still hugs us next year. I hope he still says, 'I love you' so freely."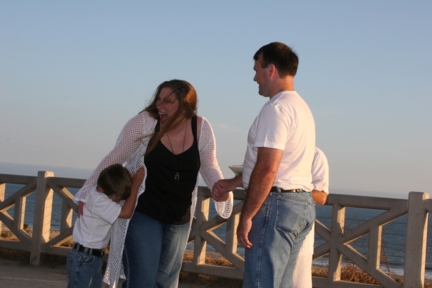 But I hope for that every year, as you never know with a boy who's becoming a man when that time will hit that he's less the type of person who leans over on you at the booth after dinner at the restaurant and more the type of person who is "cool" with his emotions.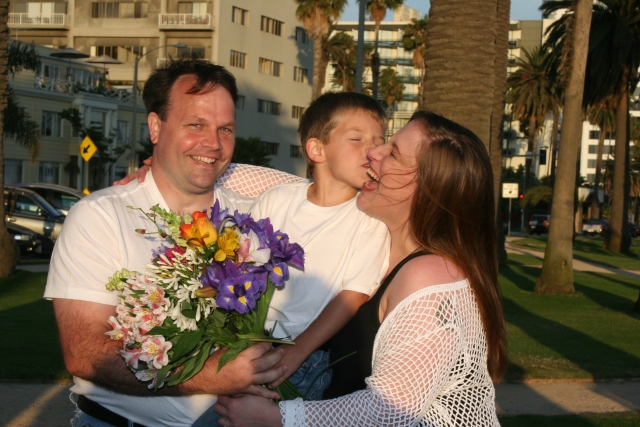 As we stood there at sunset — people passing by, just like they did during our wedding seven years earlier — I thought, "I should pull out my iPhone and take a photo." And then I thought, "No. I have this image. I have it the way it feels. And that's all I need."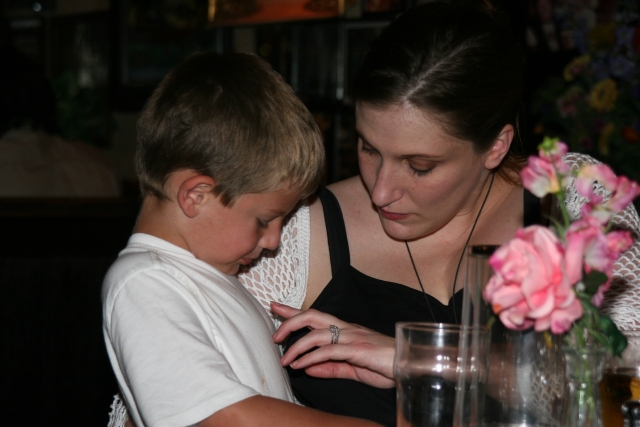 Friends of ours are getting married later this year and I was asked, at the bridal shower, to share some advice on married life. Here it is:
Choose each other every day. You're always either walking toward each other, together in the same direction, or away from each other. You will sometimes walk away from each other. Just agree not to get too far away from each other before you circle back around and do some more walking together. But the most important thing is to constantly choose to be together. And every day is a chance to choose that.
Keith, I love you and your precious son. Thank you for coming into my life eleven years ago; for telling me that you couldn't wait to prove me wrong when I told you that I would be scaring you off within just a few months since I'm "impossible to live with;" for not marrying me on October 12, 2002; for marrying me on June 16, 2005; and for choosing me every day.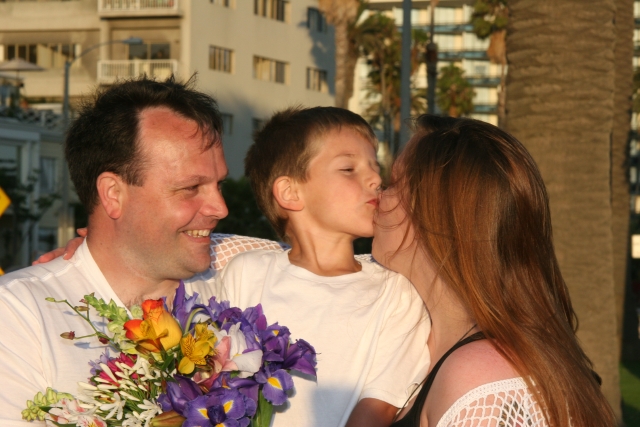 Happy anniversary, my love.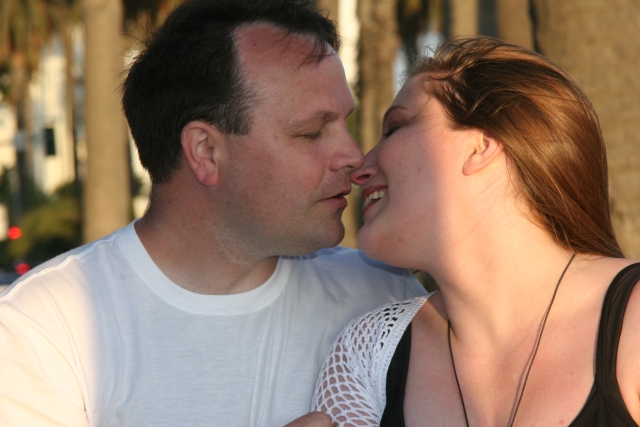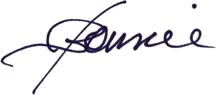 ---
Bonnie Gillespie is living her dreams by helping others figure out how to live theirs. Wanna work with Bon? Start here. Thanks!
(Visited 171 times, 1 visits today)