I was driving through town the other day and noticed a significantly lower number of out-of-state license plates than I'd been seeing earlier in the year. Ah yes… it's almost officially the end of Pilot Season, and that means folks are headed home, having spent a few months (and perhaps a big chunk of savings) in the pursuit of that ever-elusive series regular gig on a brilliant new pilot that hopefully will survive the Upfronts and go on to air at least enough times to cover the cost of your publicist and the self-congratulatory ad in the trades.
Now, regular readers know that I don't encourage "big Pilot Season dreams" for most actors, as the likelihood of failure is great, unless the goals are based in a sense of reality. But for those of you who took heed when I advised you on Pilot Season's real opportunities, it's time to check in and see how you did.
Remember, the "big picture" goal is to have done well enough this Pilot Season to confidently return for next Pilot Season, better prepared to work at an even higher level. Those of you who leave LA depressed, bitter, and angry over how Pilot Season went may need a "hard reboot" before returning. So, let's get down to reviewing the real goals and benchmarks for success in Pilot Season.
Did You Make Improvements?
Did you get better at your craft? Did you study with an amazing new coach? Did you raise the bar on your own expectations by working with better, more professional players? Did you improve a special skill or two? How's your demo reel? Did you add great footage and remove the sentimental favorite scene that wasn't helping you get seen as you are currently marketed and cast? Did you spruce up your website? Did you move up a tier by connecting with people in the industry who are also investing in the long haul, rather than sitting around grousing with bitter actors?
A great quote on this last item comes from brilliant, inspiring actor David Nathan Schwartz:
If you get five musicians in a room, you'll get music. Five actors, why is it only bitching?
If that no longer applies to you, congratulations! You've made some improvements! (And if that was never you, well then you ROCK. Thank you.)
Did You Make a Difference?
Did you give something back to the community in which you live, work, and play? Did you intern at a casting office where you could both learn about the business from another POV and help take a load off the CD's plate? Did you mentor actors who are at a tier below yours, so that they can avoid Bitter Actor Syndrome and satisfy their goal of investing in relationships with those at a tier above (that'd be you)?
Did You Self-Manage Well?
Did you manage the stress of the season without going on a bender or screaming at your agent? Did you set out to meet new people in the industry and improve the look of your professional contacts database? Did you maintain perspective on the "big picture;" keeping the focus on doing good work and NOT on immediate returns? Did you learn your way around town (or avoid evil parking tickets) or at least find a great shortcut between your apartment and the casting office you visited most? Did you take stock of your primary type and pledge only to use headshots that serve the purpose of marketing you correctly?
Did You Get the Point of Pilot Season?
Remember, thinking you'll get to test for series regular roles on pilots without already having had a few pretty high-profile guest-star years under your belt is just a recipe for a "failed" Pilot Season, for most actors. Because a pilot is a "maybe" until the Upfronts, your ability to help "sell" the show to advertisers is what gets you in. But if you focused on the co-star and guest-star roles on ongoing episodics during Pilot Season, you probably had a more productive few months (and made more than a few CDs very happy that you were available to them, on short notice).
Did You Stay Grateful?
I know it's tough to be grateful when you book exactly NO work in a three-month period. Even worse when you come really, really close several times. But that's when gratitude is perhaps the most important.
Look at it this way: How many people on the planet get to travel to a fabulous new place in pursuit of their life's dream? How many folks get validated by having been invited in for a shot at something they've only ever fantasized about? A friend of mine went in for his FAVORITE show last month. Did he want to book the two-line co-star so badly that he would've done anything for it? Of course. But that's not what he focused on. Instead, he was overflowing with gratitude for having been given the opportunity to perform for the people who put together his favorite show every week. That they wanted to be consumers of his work was a huge ego boost. The fact that he didn't BOOK the gig is irrelevant. They enjoyed having him in and have invited him in again. And they'll continue to do so until the right role matches up to his abilities and his look.
That's all it is, really. You're so very blessed to get to go after what makes your heart sing. Ever. And if you came away from Pilot Season thrilled with having had that opportunity here in the big leagues, you can count this as a very successful experience!
If you get that, I trust that we'll see you back here next year for more, bigger, better experiences. Believe that.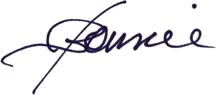 ---
Bonnie Gillespie is living her dreams by helping others figure out how to live theirs. Wanna work with Bon? Start here. Thanks!
---
Originally published by Actors Access at http://more.showfax.com/columns/avoice/archives/000696.html. Please support the many wonderful resources provided by the Breakdown Services family. This posting is the author's personal archive.
(Visited 40 times, 1 visits today)