Hi Bonnie,
Thanks for all you do!
I've gotten a LOT out of your advice, most recently from your columns on cover letters. (I've been looking for new representation, which I secured today — Yay!) In your Critiques: Your Cover Letters column from 2010, you had one sample of an agent drop letter, and I thought I'd contribute another one.
Here is an edited-for-privacy copy of the agent drop letter I wrote (PDF), which I thought could be useful as another example. My ex-agent and I had always communicated mainly via email and text message, so I sent the original letter via email, then made a couple of modifications for the follow-up hard copy.
I hope it's helpful to others.
Thanks again for being so open and giving so much to all us actors. I'm looking forward to Getting in Gear for the New Year with you!
All the best,
Stevie Jackson
Yay, Stevie! Thank you so much for this pre-year-end share. You are such a rockstar and I'm thrilled you landed new rep *and* had such a good experience releasing your relationship with your previous agent. This can be such a stressful time for actors, so I'm pleased your experience was positive and professional!
That you have done a "yes, and…" off what was helpful for you by sharing your letter with readers of The Actors Voice is phenomenal. Exactly what the #SMFAninjas spirit is about, which of course you experienced with Get in Gear! Thank you for having been part of that year-end free training series. What a blast to be trending!
Here's to a 2015 filled with tier jumps for us all! Thank you and rock on!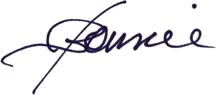 ---
Bonnie Gillespie is living her dreams by helping others figure out how to live theirs. Wanna work with Bon? Start here. Thanks!
---
Originally published by Actors Access at http://more.showfax.com/columns/avoice/archives/001919.html. Please support the many wonderful resources provided by the Breakdown Services family. This posting is the author's personal archive.
(Visited 2,736 times, 2 visits today)