For most members of my family, my arrival created the need for distinguishing between "Big Bonnie" and "Little Bonnie."
And today, "Big Bonnie" passed away… at the age of 98.
That tiny pic (Sheesh, we scanned 'em itty-bitty a zillion years ago, didn't we?) is from a visit in 1990. Man, I love my Aunt Bonnie! She was just always so funny and irreverent (hell, like most of us in this family) and SUCH a survivor (polio, anyone?) that I've always admired her. Still do.
And now she's gone to visit my mom on the day before what would've been Momma's birthday.
I'm sad. But in that good way that includes being so very aware that I'm immensely lucky to have had such wonderful women in my life, in my family, in my heart for so much of MY time here.
Goodbye, Aunt Bonnie. I never got tired of hearing you tell the story of how I'm named after you. It has been (and will continue to be) an honor.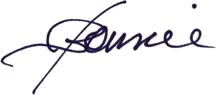 ---
Bonnie Gillespie is living her dreams by helping others figure out how to live theirs. Wanna work with Bon? Start here. Thanks!
(Visited 129 times, 1 visits today)