That's hyperbole.
I don't hope that anything I write sucks, of course.
However, it's illustrative of a point I made to a client last week that we agreed would be worth sharing with you here.
See, there's this whole perfectionist tendency among many creatives that leads us to do everything from stalling out before we even start on up to surrendering to overwhelm.
If this sounds familiar, either way, the result is the same: You've not shared your gifts with the world. Everyone loses.
Those times when you're thinking, "I can't promote my website; it sucks," or, "Oof, I really wish my footage were stronger," or, "This bio is garbage; please don't read it," you're really just protecting yourself.
But what you're protecting yourself against is NOT failure or judgment or rejection. What you're protecting yourself against is the inevitable — the FUTURE you.
Future you is more talented, better trained, more deeply invested in relationships, more experienced, and better equipped to do these things you're currently judging yourself about.
So… you're pretty much — in your current youness — protecting yourself against future you, whom you believe will judge you for ever having let any of this stuff out into the world.
Why is future you suddenly a dick about all the growth you'll have experienced by then?
I like to think that future me is SO PROUD of current me.
I'm fairly secure in saying that current me is flat-out inspired by past me and all she's been through and how much she boldly put out into the world before she was *technically* ready. SURE, there are flaws I can easily find in some of my earliest columns, that first "real" bio, those inaugural episodes of everything I've done. Of course.
But what I mostly find aren't flaws, they're reasons to go forward with whatever I'm feeling hesitant to put out there TODAY.
(On that, HUGE thank you for the ridiculous amounts of support and love I got for last week's BonBlast. I *so* appreciate you letting me get vulnerable with you and having you say, "Yes! This HELPS.")
When I'm told, "This is your best work," my immediate response is, "I *hope* this isn't my best work! If I'm not constantly getting better — so that the NEXT thing I create is ever-more epic — I might as well stop creating today."
So it's not that I hope this sucks. Of course not! What I hope is that it's the best I'm capable of at this moment in time and that I'm just getting started.
Same with you.
Don't wait to put your work out into the world. Share your gifts. No, this may not be your best ever, and future you can do better. But current you is all you've got today and getting okay with the work being something you'll be better at later is part of what today's work includes. Technically, you don't WANT it to be your best.
Think about it: If your website is the best it'll ever be, you're selling future you really short. Same with your marketing plan, your demo reel, your craft, heck, even your relationships!
It's all up from here!
But you don't get to rejoice in all the badassery that is future you — confidently putting more and more of your creative brilliance into the world — if you sit on whatever it is you're judging or feeling overwhelmed about today.
Kick it in gear, y'all.
Put it out there.
And keep getting better. We're never done with this. 😉 All of us! As creatives, this is true for us all and I'm glad to share this with you.
Now share something with me today.
Pop a link in the comments below so we can all celebrate exactly how awesome it is to suck like this today… knowing it's only up from here.
Much love,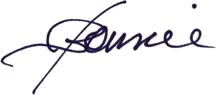 ---
Bonnie Gillespie is living her dreams by helping others figure out how to live theirs. Wanna work with Bon? Start here. Thanks!
(Visited 475 times, 1 visits today)