I'll never forget the conversation I had with a fellow writer about the day I finally stopped apologetically calling myself a writer and instead enthusiastically answered, "I'm a writer," when someone at a non-industry networking event would ask how I make a living. This friend and I were both first actors, then writers, and we both still are the latter, though I've added casting, teaching, and touring to my list while she's added nonprofit fundraising, teaching, and touring to her list. At the time we were having this conversation, we were both definitely hyphenates, but I had always felt a little weird about listing off *all* the various things I do, since there's just no ONE title for it. "I'm me. Y'know? Whatever ALL that is."
But when Twitter rolled out LISTS, I spent one evening looking through the lists on which I had been placed. When list after list after list identified me as a member of a community of writers, I began to feel myself get more aware of what others were saying about what I do, even if I didn't feel great about my way of summing it all up. So, back then, I got more comfortable saying, "I'm a writer" at those non-biz functions with my fellow-writer friend.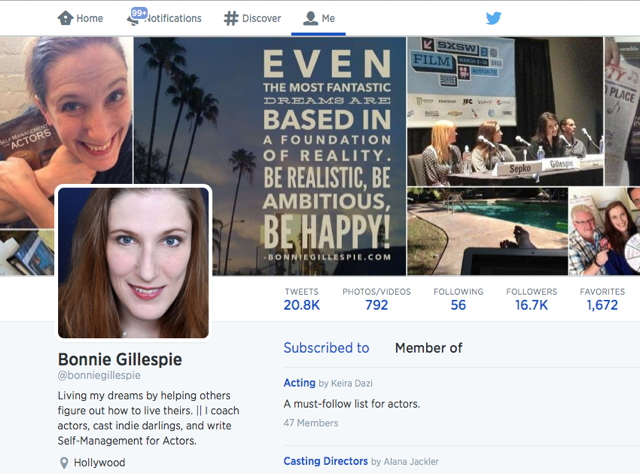 When I look through some of the hundreds of lists I'm on today, I'm always amused, inspired, and fairly pleased that there's a really good mix of lists, here. From the standards you'd expect — casting, actor inspiration, industry leaders, writers, Hollywood perspective; to the ones involving my hobbies, habits, and interests — pole fitness, NSNG, gluten-free, NO H8, WriteGirl, keepin' it real; and from my professional memberships and speaking engagements — Television Academy, NMX, SXSW, Peabody Institute, SAG-AFTRA Foundation; to the ones that surprise me — fabulous gingers, never NOT fun, people who smell nice, best racks in Hollywood; the study of how I'm labeled, of course, is something I can turn into a convo about actor branding.
But I won't. 😉 I talk so much about branding that y'all already know the value in getting clear on the labels we use about ourselves so it's not only up to others how to label us. It's the "headline game," really. In the end, if the press were to write up one line about you, defining all that you have been to the world or to this industry or to any specific segment you'd like to examine, what would that be? With that game in mind, we can be mindful with what we're putting out there, because that leads to the entire user experience in connecting with us over the years.
I once cast a project that was so very frustrating, start to finish. There were miscommunications, there were half-truths passed down from producers to the rest of the team, there were schedule changes and location shifts and last-minute notice (if any) about all of that. I thought about all those actors I helped put on that set and really, really hoped they were having a less frustrating run now that the shoot was actually happening. Because if the whole experience is filled with glitches, that's all anyone will remember about having been a part of it. That'll be the headline.
Basically all of us in this business are constantly providing buyers, coworkers, and fans with excellent service (or less than excellent service) at every step of the process. I do everything in my power to be sure that actors have as much information as possible about the project, its union status, its contract, its rate of pay, its shoot dates, their billing, and so on BEFORE I'm even asking them to submit for consideration in a breakdown at Actors Access. I figure, I'm the first face of the film for most of these actors and their representatives, so I want their experience to be stellar.
And when I get word after the shoot from actors who had a spectacular time — exactly as I hoped they would with such a great crew, doing such fun material — I am thrilled. I know the brand building I did on behalf of myself and the producers of the project I cast was effort well-spent. And I know the "Google auto-fill" for anyone talking about this project later will be positive.

So, what's your Google auto-fill? When you start typing in your name, I'm not just talking about what suggested searches show up, I'm talking about what you WANT to pop up there, someday. What work can you do today to help the "related searches" on you lead toward the best possible vision you want the world to have of you?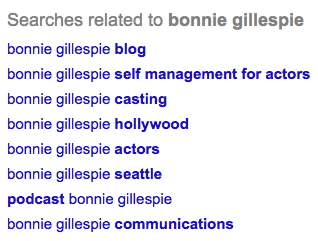 Of course, we can't control our reviews. We can't control what others will feel about the time we shared with one another. And truthfully, we shouldn't try to control these things. It's an exercise in futility and it's a distraction from our true purpose in being a part of the storytelling process. Fun fact: The more good work we put out in the world, the more often the headline we leave behind is a positive one, the more excited we are about creating an amazing experience for everyone with whom we jam… the stronger the likelihood those auto-fill suggestions become exactly what we always hoped they would be.

Oh, and sometimes they lead to badass Australian female football (LFL) players. Not a bad "name share" score, huh?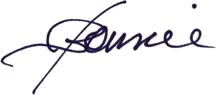 ---
Bonnie Gillespie is living her dreams by helping others figure out how to live theirs. Wanna work with Bon? Start here. Thanks!
---
Originally published by Actors Access at http://more.showfax.com/columns/avoice/archives/001860.html. Please support the many wonderful resources provided by the Breakdown Services family. This posting is the author's personal archive.
(Visited 55 times, 1 visits today)