Hi. And whoa.
(For my woo-woo friends, um, is Mars retrograde comin' in hot or what?!?)
This is a super quick post because I have three livestreams coming up over the next two weeks (Spoiler alert: We're inviting in new members for the LAST 100 days of 2020, so that means more visibility for a little bit.)
I have an idea. Maybe it's more like a plan. But I need to know if it's something *you* want to join me for, because it's kind of like a three-part thingy, and it only works if you're THERE (and these are work sessions; not passive livestreams you can just listen to while having 27 other tabs open).
September 13th: Prepping for success with building your KLT-factor.
September 17th: Learning my soon-to-be-famous 5×5 Content Planning Method (it's… life-changing; I'm not kidding).
September 22nd: Troubleshooting any snags you're having in getting your gameplan SET. (We'll also answer any final questions about our flagship membership, Get in Gear for the Next Tier, since this will be your last chance to join us in the dojo for a bit.)
Here's what my soon-to-be-famous 5×5 Content Planning Method did for the amazing Dana Middleton, The Aligned Artist.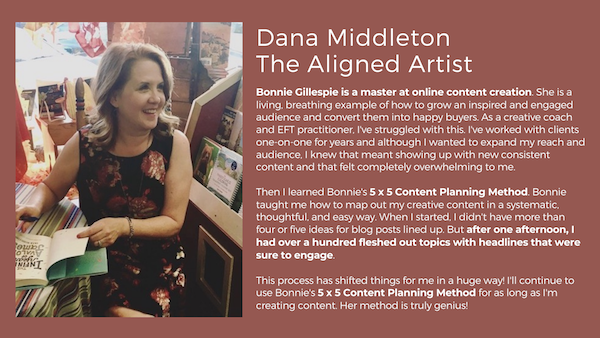 (Click to enbiggen if you share my reality that text on the page is totally getting smaller and smaller every day.)
Okay, so, this is something I started teaching in March as a part of our pop-up course JFDI with Bon. It — on its own — has the potential to change the whole flippin' game when it comes to everything from blog posts to email newsletters and from social media shares to podcast episodes and livestreams. Yup. If it's CONTENT, I can help you schedule a YEAR of it using my soon-to-be-famous 5×5 Content Planning Method. Easy-peasy, lemon-squeezy.
So… this will be a three-part series of livestreams on the 13th, 17th, and 22nd of September, totally FREE — oh, did I forget to mention that? Yes. TOTALLY FREE — and you don't even have to register. I know. SUPER easy, right? You just put it all on your calendar and then show the eff up. With your notebook. And your pen. And your calendar. And your gratitude for the shift you'll have in no time. (You can thank me when you're holding up something gold and shiny. We'll call it even.)
But before I get all of this planned out, solid, I just need to know if this is something you WILL show up for. You can let me know with a comment just below.
And, hey, if this isn't what you need right now, it's back to the drawing board for a different topic for these three livestreams. Guess what! THAT'S NOT A PROBLEM, thanks to my 5×5 Content Planning Method! Yup. I *always* have hundreds of topics ready to go. You see why I'd like to help you do the same, right? 😉 Game. Changer.
All right. Let me hear from you! [UPDATE: Y'all are into it! Here's all the info, your workbook to download, and the replays!]
Thanks and I'll see you Sunday! (Yes, I'll email you with all the details. Make sure you're signed up here and then keep an eye on your inbox! Let me know if you're IN for this just below, right now.)
All my love,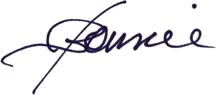 ---
Enoughness is an inside job… and sometimes you need a guide to find your way there. Let Bonnie Gillespie get you started.
[REPLAY: 5×5 Content Planning Method — FREE Training from Bonnie Gillespie]
(Visited 779 times, 1 visits today)