I love it when I get questions that apply to ALL of us.
Y'know, sometimes a headshot question is gonna yield an answer that only applies to actors. Sometimes an astrology question is best for the woo-curious but not the rest of y'all who get my emails or read these posts. My creative entrepreneurs in the bunch may love geeking out about webinar workflow but that's not exciting for my showbiz folks.
Ah… but this one is good for everyone.
Social media. Of course. We ALL have to be on it. Build a fanbase. Grow a following. Post on-brand. Right?
Absolutely 100% FICTION.
Here's the question I received:
What advice would you give an actor who hates the trend I'm seeing of breakdowns and meetings centered around how many followers I have on social media? I hate social media in so many ways. Despite having solid chops and talent I can't seem to promote myself without feeling gross about it and slightly narcissistic when the world is so chaotic right now. People are struggling and I'm posting photos and videos of myself which I feel self-conscious about. What should I be doing or saying to myself to get over mild social anxiety I get when posting to try to be more "appealing" to casting and talent reps?
And the answer I gave?
It's up at IGTV. It's just a few minutes and it's worth your time to watch it.
Click to watch at IGTV.
(Don't have access to IGTV? Here it is on the YouTubes.)
I break down the role of your True North in determining how (or even if) you need to show up on social media. I mention that OF COURSE we get Stoppers from people (and oy, does that always lead to some form of Actor Busy Work). And I share that the Self-Management for Actors TARGETING work is 100% the cure to believing you have to fix non-problems.
It's not your problem; it's your filter. That thing in your gut that twists into knots over the IDEA of having to do more on social media, be more public about your life, grow a following, or anything else that just feels ICKY to you… none of that is indicative of a problem you need to fix.
It's just your filter trying to get you to pay attention to it. It's the sign that you're looking for. It's confirmation that this thing you're trying to make yourself do is NOT aligned with the work, the buyers, or the True North path at all. That this place is NOT where you need to be spending your energy, your effort, or your precious time.
Now you tell me: What is your filter trying to tell you? What's your gut saying? And have you turned that into a problem… that you don't even need to fix? Comments are open just below! Lemme hear from you!
All my ninja love,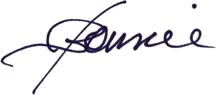 ---
Enoughness is an inside job… and sometimes you need a guide to find your way there. Let Bonnie Gillespie get you started.
(Visited 424 times, 1 visits today)