There's a lot of energy tied up in decision-making.
A lot of unnecessary energy.
And in a world where energy is CURRENCY, the question is: How do you wish to spend yours? (h/t Deepak)
There are so many things that — once we get the decision MADE and the deed DONE — are way smaller a deal than they may have felt when all the *deciding* was going on.
Case in point: closing the Facebook group. Nearly six weeks of team meetings, convos with formal and informal leaders, what-iffing allllllll the reactions that various populations of our SMFA Ninjas community might have about each potential decision (Do you know that there are SEVEN levels of managing this dang Facebook group that we had to choose from?!? Holy cats!), and of course pros-and-cons-ing all the repercussions of each option and trying to know what we can't know 'til it happens.
And then — decision made as I journaled last rainy Tuesday at the day spa after a well-earned relaxing massage — I took a photo of one paragraph (that's all it took to work it out), texted that to my team, and received a resounding HELL YES from everyone.
It's as though a fog lifted.
Each time my brain would try and circle back to the what-ifs and the will-I-regret-it thoughts in the two days 'til the switch was pulled, I'd remember that very little in life gets decided ONCE and has to stay that way forEVER.
We can always re-evaluate and decide differently when we have more data.
But all this going back and forth about it rather than DOING it is what was crazymaking. For far too long.
I started thinking about a place in my life where being okay with not knowing how things will turn out has been filled with magic.
There's a moment several times a week when I basically say, "I'm not sure if this is how this works BEST, but it's something I'm ready to try, so I'm IN. I'm here for it. And I'm totally okay with not knowing for SURE right now." I sum that whole line of thought up in one sentence I say.
To my pole instructor.
Before trying a new trick for the first time.
My pole instructor preps me on the technique, asks if I have questions, then says, "Think you've got this?"
My answer? That sentence that sums up what I do rather than doing ANY more going back and forth or what-iffing or pros-and-cons-ing or anything else?
It's this:
"Let's find out!"
By going on a curiosity-fueled journey toward defying gravity a few times a week, I find anxiety MELTS away.
Because it was the anxiety of, "Will it work? Might it not? Is this the right thing to do? Should I give this more time before giving it a go?" and all that jazz that was making me crazy.
Just like the anxiety of "Do I move to this new market or stay where I am?" or "Do I sign with this new agent or give my current rep more time to make things work?" or "Do I shoot new headshots AGAIN or trust these actually will work when we get them in front of the right people?" — the anxiety comes from all the mental gymnastics, not the actual doing of the damn thing.
Pick a lane and drive in it.
Decide you're ready to try the trick and give yourself the room to FIND OUT whether or not it will work.
But spending endless energy — not to mention time and probably money in many cases — trying to cover all your bases is ultimately ineffective.
At some point, we have to just go for it and FIND OUT what's out there.
What can you make a decision about today?
Share with me in the comments below!
Don't start with the biggest, gnarliest thing you've got on your decision-making plate. Pick something stupid simple like "give these headshots six months before switching them out again" or "wait 'til pilot season ends to evaluate whether or not this rep is working out" or "just join the damn union and move up to that next tier, trusting the materials, relationships, and training are all good enough to give it a go."
Okay, maybe not so wee, these options, but if "sell off everything and move across the country (or around the world)" is on the list, these are a bit smaller by comparison.
Point is, you're probably carrying around way more stress than is necessary (and OMG, is *any* stress actually necessary?!?) and just by exploring with curiosity what may happen — knowing that "I may DIE" is probably not one of the what-ifs to protect against, here — you may surprise yourself with so much next-tier goodness.
Watch as the anxiety floats away, just by presenting yourself the freedom to go for it.
Will it work?
Let's find out!
PS — I was a guest on this cool podcast called The Creator Mindset. Check it out! It just went up at iTunes (and everywhere podcasts live) today! 🙂 Woo hoo!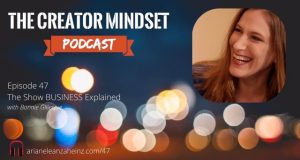 Lemmeknow what you think! 🙂 Thanks for checking it out.
'til next time… stay ninja!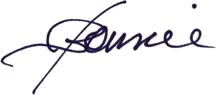 ---
Bonnie Gillespie is living her dreams by helping others figure out how to live theirs. Wanna work with Bon? Start here. Thanks!
(Visited 320 times, 1 visits today)