Okay, so I have a goodly number of dates coming up with boys/men who aren't the boy/man I'm married to. And suddenly the former Marine is bristling and marking his territory.
Now, I love the guy, but I'm wondering if perhaps I shouldn't have given him my blog address. Not because I don't love him and all… but because, MAN do boys get all territorial. I mean, I'm talking about something that happened 20 years ago (see IkIk's comments — AKA my secret blog entry pages — for details), planning a morning movie with a future superstar I cast in a film (yes, he's wonderful — he's like one of the few actors on the planet who GETS that the coolest date you can ever take to your film's world premiere is the casting director who put you in that movie), eagerly hopping up and down about my future date with IkIk and his MAP (hellooooo, Keith… just because I met YOU online does not mean that I'm going to marry EVERY boy I meet online EVER), and simply enjoying my job which involves finding actors of BOTH GENDERS very attractive and castable. And how is that threatening?
Ah, well… I guess I'll get it right back in my face when he books the gig on a series in which he must kiss some vapid see-you-next-Tuesday on camera and I get to not only hear about it but watch it on infinite reruns. Lucky, lucky me.
Jodi, are you happy now? See! We DO have the issues! 😉
Oh! BTW, I believe the comments are broken… like the first morning.
I keep getting emails from folks telling me they're trying to comment. So, well… I've tried (again) to adjust the settings and I hope I'm making it easier for y'all to comment (but not making it so that I'm spammed relentlessly through fake comments and trackbacks). *sigh* Yo, Texas Sarah, I am soooooo ready to hire you as my assistant. For reals. Maybe you could fix the comment thing. Or at least field the ones that come through to about ten different email addresses. OH! BTW, I recently deleted EIGHT different email addresses I used to have. That's deep.
PS — Biggest piss-in-my-pants laugh I've had today (other than during My Name Is Earl, which was simply brilliant tonight) came from reading the recent exchange between Def Jam Becca MC, PAM, Urp, Erik, and me at KiKi's/IkIk's blog. I swear, I'd love to get through a whole post without talking about my NBF(F) Erik, but I just can't. Damn. Coco hooked me up but good. Again.
Yes, this post is light on the links (and has no photo). That happens when you have a job-job to finish before sunrise. God bless the survival job! No matter how Hollywood you get. 😉
PPS — I think I'm going to start doing what EriK does (dammit! I mentioned him again!! I must be soooo in love!!!!!!) and reply to comments IN the comments. Not only will that make my comment count rise, but it'll make my replies more public and perhaps more (egad) interesting.
Aw, hell… what do I know? Maybe comments will be broken for me too and that'll just suck beyond all. But at least I'll know the comments are broken earlier. Maybe.
PPPS — Am I the only one on the planet who believes having a MySpace account is completely unnecessary? Or am I missing something?
PPPPS — OMG, I tried so hard to make a comment to the post below about KiKi's foot. I reset the settings and nothing worked. Dammit!!!!!!!!!! So, here's what I said, since I really tried to comment in comments and now no one can comment in comments, it seems.
———-
Okay, here's my first shot at posting replies within my own comments. Wish me luck!
Nini — so so so so glad the book finally arrived. Do you really think it's sexier than the book you received layst year? Oooooh, I'm just so happy! Miss you. Love you. Please move to elay soon.
Ed, I would never tattoo my foot, but I am a big fan of writing on myself with a Sharpie, so be ready to see photos of that nature after KiKi and I meet in person and write on each other.
Since I'm big ol' gluten free, there's very little of the Outback foods I can have, but they did take care of me, somehow. It was yummy.
KiKi, I had to crop. I HAD to. I simply had to assume that some of my readers wouldn't clink to your blog in order to see your comments about your own Brit-Spears-grocery-store-feet experience, and, well, I had to cover, just to be sure.
And, yes, we have a very specific-earlier-than-your-PAM-shows-up meeting time. Yay! We shall have a time. No doubt!
This was my first time commenting on my own comments. I hope it works.
———-
Ha ha, punkassbon. It didn't work.
Back to the post.
Anyway…
Please pretend this post was interesting.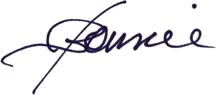 ---
Bonnie Gillespie is living her dreams by helping others figure out how to live theirs. Wanna work with Bon? Start here. Thanks!
(Visited 145 times, 1 visits today)