Here's some feedback I received on last week's age range article from the parents of young actors forum, PARF.
I like this article a lot.
Also, it's so important to look like one's headshot and this is another reminder.
If someone looks 30 and the headshot still looks "high school," it's not going to work out so well when they are called in for a role they can't pull off based on a headshot. It doesn't even need to be an old headshot, just one that makes them look younger than they do in real life.
Amen! I worked with an actor recently who is convinced she still plays a good ten years younger than she is in real life, and while she may play *two* years younger than she is in real life, it's time for her to own her age and update her headshots to reflect that next stage of adulthood, because that's actually a more castable range for her!
Somehow, we convince ourselves that there's value in being able to play younger, longer. There are certainly some actors for whom bookings are plentiful years younger than their actual age, but what's true for most actors is that their most bookable age range IS WHAT IT IS, and it's different for everyone!
You may book more in your 40s than you ever booked in your 20s. And to hang onto headshots that still sell "late 20s" if you're knockin' on 40 (and would be booking like crazy if you let yourself show up for those roles, which an age-appropriate headshot would help facilitate) is to block yourself from success. Why would you do that? Just to keep using headshots that "feel younger"? That's horrible.
Having headshots that don't accurately represent *exactly* what's gonna enter the room when you get the audition is like having business cards with a typo in the phone number. Why on Earth would you keep using such marketing tools?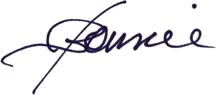 ---
Bonnie Gillespie is living her dreams by helping others figure out how to live theirs. Wanna work with Bon? Start here. Thanks!
---
Originally published by Actors Access at http://more.showfax.com/columns/avoice/archives/001785.html. Please support the many wonderful resources provided by the Breakdown Services family. This posting is the author's personal archive.
(Visited 110 times, 1 visits today)