Okay, okay… before you panic, Keith and I are FINE.
In fact, we're better than fine. 17+ years and going strong. Our partnership continues to be a work in progress and we choose each other every day. That, and we always go for the funny.
Today's BonBlast is about relationship management in showbiz.
(Well, actually this would apply to relationships in any industry… but let's keep the examples in the biz for today.)
One of the things I see actors spending a *lot* of energy on is fixing things with non-hell-yes reps.
Don't know what a hell-yes rep is? Watch this quick vid.
Okay, so you're repped by someone who can't get you out. He says, "Get new photos." You are so sure your photos are fine — mainly because when you self-submit, you get out plenty — but you want to make your agent happy so you think maybe you should throw money at this problem and get him some new tools to use.
Before you rush off to book another headshot session, I ask you: "Is this a hell-yes rep?"
Because if the answer is NO, you're going to couples counseling when you should be filing for divorce. You're trying to fix a non-problem for the wrong person! Your focus needs to be on targeting your next-tier hell-yes rep rather than chasing your tail for the guy you're gonna be dropping (if he doesn't drop you first).
Don't know how to target your next-tier hell-yes rep? Watch this very NOT quick vid.
If the answer is YES — this is in fact your hell-yes rep — then you get your ish together so you're providing this hell-yes rep with exactly what he needs to be able to pitch you as if his rent depended on it (because it does).
Same goes for non-rep relations.
You're a director collaborating for the first time with a producer you're excited to jam with. But then the meetings get tense. The communication starts feeling one-sided. She's not pulling together the relationships she said she had when you first got together and the money's not coming through so fluidly either.
If this is one short film, one episode of a webseries, one play put up at Fringe… you do what it takes to make it work. You find a way. You take the divorce-is-on-the-way route. Get the job done, knowing you'll be out of this relationship soon enough.
But if it's a slate of projects, an entire series with who knows how many seasons stretched out ahead of you, plays all season long at the theatre company… you've gotta hit some couples counseling, don't you? You're committed. That means there's an investment.
Keep in mind, though, that a relationship investment is one in which BOTH parties must walk toward one another.
Of course you're gonna have times when you're walking away from each other a bit. But when there are differences of opinion, work style, fulfillment of needs… you'd better be sure you never get so far away from one another that you can't find your way back.
I had an encounter last week in which it was clear the other party wanted no part in "coming together." The agenda was to have some drama, assign some blame, and feel victimized. (And as y'all know, I try not to step into the drama triangle, ever.)
I've got no need to chase someone who's got no plans to come together.
I'd love to know if you've got any relationships in your life that you can view through this new filter. After reading this, are you feeling like it's time to reallocate your energy, time, and money into creating BETTER relationships rather than investing in ones that have shown you they're just not clicking?
Look, I get why we sometimes stay around in relationships longer than we should. We figure we've invested so much already that we "can't quit now!" But what's actually true is that once we're sure it's a divorce situation, all that energy, time, and money spent in couples counseling is just feeding our need to beat ourselves up when it ultimately doesn't work. We're just fueling a future convo with ourselves about how silly it was to have stuck around hoping against hope for so long.
Let's not do that.
There's way too much cool stuff into which we can invest all of that energy!
Let's free up space for our creative spirits to soar!
Much love,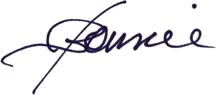 ---
Bonnie Gillespie is living her dreams by helping others figure out how to live theirs. Wanna work with Bon? Start here. Thanks!
(Visited 311 times, 1 visits today)