Seems everywhere I log in these days, I'm prompted to give the AI copy generator a try. Canva wants AI to write my curriculum workbooks. Ontraport wants AI to write my emails. Heck, I've started to consider what a great bounce-ideas-around-like-a-writers-room ChatGPT could be.
I get it. It's a thing. Artificial Intelligence. Blah blah blah.
Y'all know I'm woo, so I'm very interested in this Pluto-is-headed-into-Aquarius trend of allowing technology to do more and more for us, transforming our lives in unfathomable ways. AI is just the tip of the iceberg. (Oh, hey, sign up here for the on-demand replay of my free Chart Harmony webinar on annual profections.)
I'm also someone who's been in showbiz since childhood. And there's no amount of technology that renders useless the human experience reflected back via the authentic connection of actors. That "I am seen" experience requires actual people. Giving and receiving the transmission.
AI as authentic intelligence, not artificial intelligence.
And I don't mean "intelligence" in the "I scored 1330 on the GRE" sort of way.
I'm talking about emotional intelligence, social intelligence, intuitive intelligence, empathetic intelligence, interpretive intelligence, connective intelligence. Authentic intelligence, right?
I get looking for shortcuts. I'm all for the Zapier thingy that makes one app talk to another app in my business, thereby saving us loads of work doing things by hand that smart systems can do, once set up well by smart humans. Efficiency is a good thing much of the time.
But not everything needs to be sped up. Optimized. Efficient.
So much of storytelling is better when clunky. It's real that way. It rings true. It's like life. Messy. And sweet. Imperfect.
Not sure I'll *never* use any of the many many many AI copy-writing options out there. But I am sure I'll never STOP using the only ONE option I have for connecting fully with you through my writing: doing it my damn self. 😉
Feel free to drop me a comment below to connect with me using your AI (authentic intelligence). I love celebrating our reality together!
Much love,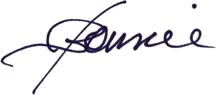 ---
Bonnie Gillespie is living her dreams by helping others figure out how to live theirs. Wanna work with Bon? Start here. Thanks!
(Visited 159 times, 1 visits today)