Hello and welcome to all the new-to-the-Bonnie-Gillespie-experience folks (seems there's something called "The Ava Effect" and our uptick in numbers (all over social) mirror the timing of getting regrammed by Ava DuVernay over in those InstaStories of hers).
Yes, I'm a casting director. Yes, I work on an Emmy-winning show. No, you do not need to DM me to get on my radar. 😉 Let that happen organically. Long game. We'll connect if I'm on your true north path.
I'm glad you've decided to join me here. I hope you've also grabbed your copy of Self-Management for Actors and signed up for my emails. I look forward to getting to know you! You can always post in the comments here.
In addition to what you already may know about me, let me state for the record that I have always been and will always be soul-on-fire devoted to #CreatingTheHollywoodWeWant by empowering generations of actors and other showbiz creatives to create more of your own content, align yourself with those buyers most in need of your storytelling gifts, and stop giving away your power and outsourcing your enoughness.
Every breakdown I have ever released has said "submit all ethnicities" unless the people who hire me dictate otherwise. I tend to cast for people who not only DON'T dictate otherwise but who also let me use phrases like "age open" and "gender agnostic" in the casting notices. And I have been working with showbiz creatives long enough to see tiny, incremental, but very real change. We need loads more of it and it's now happening ridiculously fast… and the human brain — no matter how much we love innovation — feels threatened by exponential learning. We're wired for linear learning.
And I'd like to introduce you to 2020: The year of exponential, experiential learning.
Ain't nothin' theoretical about this shit, y'all.
And one of the reasons we're so flippin' exhausted is because the brain needs TIME to process way more information coming at it from OUTSIDE the tolerance of "less than 10% different" (that's the amount of change the brain can accept at any given time). (Yes, I spend my free time studying flow theory and neuroscience and epigenetics. I know.)
Still, apparently I offend some folks when I speak up about my commitment to dismantling racism in the only territory I actually control: my business. My life. My teaching. My casting. My producing. My writing. My daily life.
I *know* that I offend some folks when I talk about my commitment because not only do I get significant unsubs from the BonBlast and a steep drop in followers at social media… I also sometimes get beautiful feedback like this.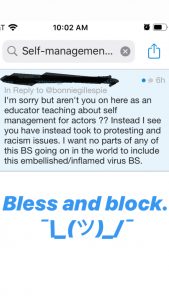 Oh, bless. Bless. BLESS.
(And honey, this isn't an airport; you needn't announce your departure. Just take your racist ass on outta my life. I'm sure there's someone else's life's work that aligns with yours. I'm actually TOTALLY okay with the goodness of Self-Management for Actors no longer being a part of your business plan. I will survive when you don't thank me as you hold up something gold and shiny someday. We're good.)
So, because you've read this far, that tells me a lot about you: Like, even if you're confronted by the stress and pain and shame around dismantling racism — especially if, like me, you had to look in an unflattering mirror to start this process, but you DID IT and you're committed to help our world feel a little more "at home" for EVERYONE who inhabits it — you stayed in it. You didn't use the option-to-stop-looking that privilege provides. You had the tough convos with people you love. Or… you still feel helpless AF in all of this but you know your heart breaks because there's pain in the world and that's no fun.
And here we are with production coming back. Casting notices going out. Actors heading nervously to set, learning what the new normal is regarding health and safety and inclusion all at once. And rather than rejoicing that — slowly, safely — we are getting back to creating content and doing our life's work to entertain, connect, communicate, heal through our art… I have people lamenting the fact that there are now FEWER opportunities.
*ahem*
Let me clarify.
I have white people complaining that the amount of roles for white people have plummeted from 87% of all the roles in all of the breakdowns to a puny 72% dominance.
(And of course, white people complained when those numbers shifted from 91% to 87% a few years back, too.)
I should say: SOME white people are complaining. Most are not. Most are aware we still have a loooooooonnnng way to go to see entertainment that is more fully representative of the world we inhabit. Stories that pass The Bechdel Test and The DuVernay Test. (BTW, The DuVernay Test is more than 4 years old. The Bechdel Test is 35 years old. If either is new to you today, don't feel bad! Remember: The best time to plant a tree was 20 years ago. The second best time IS TODAY. You're here. You're learning. You're growing… exponentially. Seriously, take a nap. It's a LOT on the nervous system, y'all.)
The reason for all of this set-up, here, is to take y'all through a rant I posted last week.
---
Let's talk about STOPPERS, y'all.
In showbiz, there are always stoppers: convenient ways to hand you your NO when the gig is not yours.
We've heard them forever. "You're too old," "You're not SAG," "We're going ethnic." And now, Hollywood may actually MEAN IT on the racial equality front. Finally!
STOPPERS are things you can't bargain your way out of, when you really really really think that role should've been yours. Here's what's important right now, #SMFAninjas (and to everyone who shares this image and these words): It is an HONOR to finally not get a job because anti-racism is beginning to work.
If you want to gripe, white actors, about losing more and more roles because you're white, fucking create your own content so you're never out of a job. Collaborate with black creatives and build our future from an empowered place. And if all of this just makes you want to whine or come at me, please give your copy of Self-Management for Actors away to someone who actually has a shot at leading the new Hollywood.
For those of you with me in CELEBRATING this stopper, give me a woo HOO! We are — as always — #CreatingTheHollywoodWeWant ✊🏿 🏳️‍🌈 🎯 🎬 🏆
---
Okay.
So, I know this all feels like a lot (um, it *is* a lot). I know when we're facing exponential change it is actually brain-breaking at times. There's a lot of fear. There's a lot of rage. There's SO MUCH FREAKIN' UNKNOWN right now (but all we ever had was the illusion of control). And there's a very real need to have convos about ANYTHING ELSE sometimes.
Because we ALL — yes, even the most active protesters, even the healthcare workers who've not had a day off in months — need to be able to take our attention OFF the important work we're committed to. In fact, that's why entertainment exists.
Our work is to create things that provide a break for people who need it. That contextualize the things we cannot sometimes make sense of in our lives. That heal.
So please keep showing up for the work of it all. Go easy on yourself. Have a TON of grace and patience when you learn the depths of things you will never understand (seriously, y'all. Yesterday my 86-year-old daddy told me that his wife has a statue of Donald Trump in their front yard and has been hosting a "patriot party" singalong every single day for 93 days now, with all the neighbors coming out, praying, pledging allegiance, and recommitting to the MAGA pledge in their "bubble" back in Georgia). Know that we are living a revolution in real time.
I was about to say something about how I am baffled that there are people out there who don't want to live in a world where everyone has the same rights and where people aren't singled out and treated differently for how they look or where they come from… but I've decided to come at this a slightly different way, as I reflect on one of the more hateful unsub/you suck replies I got from someone who "comes to Bonnie Gillespie for Self-Management for Actors, not race relations or political BS". (OMG, I can't with this.)
Here's the deal: I have ALWAYS made my work available, consumable, relatable, and NONJUDGMENTAL for actors with power agents, booking top-of-show guest-star work on hit shows, living here in Hollywood… AND actors in non-markets with no union membership and nothing but local theatre credits. One of the things you've always loved about my work is that it treats EVERYONE the same. EVERYONE has a shot at making it. EVERYONE can live their dreams.
So, as I lose more followers, more fans, perhaps even more future BUYERS because my stance on dismantling racism is somehow offensive (???), I find it ironic that the same people who are pissed that I'm vocal about my position are some of the ones who have always benefited from the fact that I am so freakin' inclusive in my work. Like… they had no problem that I was unapologetically militant about helping EVERYONE have a better shot at living out their showbiz dreams, no matter what their type, their training, their union status, their geographical location, their tier, their true north goals… but how dare I even mention that part of my work includes a FULLY INCLUSIVE worldview?!?
Just sayin'… choosing *how much* fairness you want to be exposed to (and saying, "Help me even though I'm at tier zero but never say a word about how much more work it takes for non-white actors to even be invited in for auditions," essentially) is the height of privilege.
I for one am over the moon excited that perhaps for the first time EVER, when we hear the stopper, "We can't cast you; we've gone Black with that role," we're not only NOT disappointed about not getting the role; we're CELEBRATING because we're one teeny step closer to a Hollywood we KNEW was possible (and if you've never educated yourself on the white savior trope, please do so with this quick vid series).
Phew!
Okay… thank you for sticking with me. I have FOUR things to share with you before I close off for this book-long post. 😉
1. Those of you who signed up during the SMFA Summit for Barry Friedman's AMA, it's taking place Sunday at 4pm PDT and if you've not received the Zoom info via email, LET US KNOW. We're gonna make a party out of this and Barry inspires ME with what we're capable of as artists, so you won't want to miss out! Bring your Qs about marketing, staying at top-craft during slow seasons, networking, working in the corporate sector, doing virtual events, traveling with your act, even juggling, parenting, or any other "ing" you can think of, Barry says. 😉
2. SMFA Summit guest and brilliant creator of ALL the things, Mark Gantt, has had so much fun coaching ninjas since the summit that he is offering a continued deal for y'all… you just have to make sure he knows I sent you. All the details about how he can guide you through your self-producing, self-pitching, self-negotiating-the-deal-at-network journey live here. Mark *also* has a small group workshop coming up if you're looking for something more intro-level than his one-on-one sessions.
3. Another of our lovely SMFA Summit friends, Lynn Stallings, is hosting the Atlanta Workshop Players CAMP online this summer (and I'm one of many stellar speakers, teachers, casting directors watching you work and giving feedback). There's a track for kiddos and another one for adults. Check it all out here and I'll see you in class on Zoom next month!
4. By REQUEST, I am hosting another of my epic woo-woo livestreams at 12pm PDT Thursday the 25th. Make sure you have your birthday info if you want to participate in learning how your SIGN and your NUMEROLOGY and your PERSONALITY PLANETS dictate how you handle STRESS and big emotions like the ones we're all experiencing on the daily. (UPDATE: Scroll down for the replay.)
5. And finally, I have some really exciting offers for the woo-curious. 😉 It's time!
I hope you'll join me for some next-level woo and of course all the inspiration I can continue to provide. I am so grateful to you for being a part of our community, for joining me in creating the Hollywood we want, and for doing the hard work even when it's exhausting… because resilience like you're showing now is EXACTLY the kind of resilience a successful career in showbiz requires. Consider this leadership training for the next tier. You're doing GREAT.
All my love, all the time,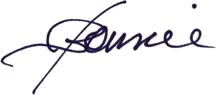 ---
Enoughness is an inside job… and sometimes you need a guide to find your way there. Let Bonnie Gillespie get you started.
(Visited 870 times, 1 visits today)