My phenomenal team and I were having a convo recently about a client who is using her life as an excuse not to show up to do the work of improving her life.
Sound familiar?
We've all done it.
We have a series of habits and beliefs. The repeated behaviors that go along with those habits and beliefs become our identity. Our identity becomes a set of habits that reinforce that identity at every turn, and at some point, we're living the life we have momentum for, rather than living the life we actually WANT to live.
Right now in my business I'm in the unique position to — for the first time EVER — follow a business model of doing whatever the fuck I want every day. Yes, that is actually what I am calling my business model because doing whatever the fuck I want right now is allowing me to get CRYSTAL CLEAR on where I have had certain things set up in my business and in my life that have become default settings for how I live… but they do NOTHING to contribute to the life I actually WANT to live.
And right now, my work is all about making daily choices — in the micro and, ultimately, in the macro — that align with how I want to feel. The values I want to exude. The leadership I want to show. The work I want to do #CreatingTheHollywoodWeWant at every freakin' turn. Dismantling racism. Championing the work of those who've previously struggled to get the spotlight. Leading leaders as they claim true north lives from a place of unapologetic, unfuckwithable enoughness.
So, today's post is just a simple question — and I'd love for you to share your answer below: Are you living the life you want to live?
What that means in the micro is: Are you making choices that align you with the trajectory that *is* your true north, next-tier self? Even as you slog through the daily things that may feel like crap from time to time, are you specifically and purposefully taking little small actions that are steps in the right direction for you to intersect with future you?
If you're sure that someday you'll be holding up something gold and shiny (and thanking me, of course), are you improving your craft and updating your show bible and building your brand on the daily?
If you're certain that a future as a world-class athlete is a part of your life, are you working out, eating to fuel your miraculous machine of a body, and recovering through self-care that's also world-class?
If you know that future you will be a phenomenal parent, are you studying up on how to BE that phenomenal parent — not just hoping to do better than your parents did but to specifically give your kiddos mental and emotional advantages?
They say the definition of Hell is that you meet the person you could've been. What are you doing *today* to be sure you never wonder "What if?" about who you COULD be?
Share with me! I want to know how — via even the tiniest little actions you're weaving into your life — you're investing in future you so that you're not, by default, only reinforcing whom you've always been. What's the work you're doing every day to EVOLVE that person into a far more stellar one who can change the freakin' world?
Comments are open just below! Let's hear it! And let's inspire one another with what we CHOOSE to do to get where we want to go.
The deadline to apply to join us for the September mastermind of Expansive Capacity is Wednesday the 26th! We're doing another round of "Your Relationship with Manifesting" because the momentum is so freakin' strong with this one. Start the process here, alumni. Excited to jam with you in this whole new way!
All my love,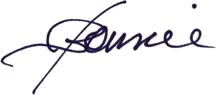 ---
Enoughness is an inside job… and sometimes you need a guide to find your way there. Let Bonnie Gillespie get you started.
(Visited 214 times, 1 visits today)