So, already this year I've done some more casting on the first-ever live, interactive, scripted hybrid series for Twitch, Artificial.
Getting to cast for my FWEs (friends with Emmys) is such a blast!
And, as always, when I pop on my casting hat, I get lessons to share with you!
I didn't plan to turn this particular tweet into a BonBlast, but it got a lot of attention so let's strip away the lessons, shall we?
Here's what I said in the tweet:
UGH! It's so frustrating when I have the PERFECT actor for a role I'm casting but her website shows NOTHING that aligns w/ her in-room vibe.
Okay, so let's take advantage of this non-Twitter environment and let me share a little more info for context.
When I got the specs for the role, a few actors immediately popped into my mind. I went to their websites to pull two or three to send to the team, basically to do the, "Like THIS?!?" question, knowing that a quick glance at any of these actors' websites should confirm that I was on the right track for the vibe and look we're going for in this particular role.
These were all actors I've met — either they've auditioned for me over the years or they've taken my Self-Management for Actors courses — and I know in the room they bring the right-fit energy to this project. The websites *should* back that up, right?
Welp… when I landed on one of the sites, I stopped short and realized I certainly couldn't send this link to the team. This didn't represent the "Like this?" question I wanted to confirm with these links.
Moved forward with confirming I was on the right track and went about inviting a handful of actors to self-tape an audition for the team.
Then I went back to this actor's website to see if there's ANYWHERE on the site this actor is helping me show my boss that she's right for this kind of role.
Nope. Nothin'.
So, here's an actor whose type and brand I know well — not just because I've seen her work but because she's been in the room for a Self-Management for Actors course in which establishing her type and brand was a component of the course itself — and she's actively pushing against what the data revealed.
Now, I'm all about teaching buyers how to cast you with the image you put out into the world, but — assuming she hasn't strategically chosen to no longer go in the direction that just a year or so ago she was slam-dunk showing up as — I'm not sure this actor realizes what it is that she's done with this website.
She just handed me her NO.
See, in casting (and in agents considering repping actors too), we need NOs. We can't say yes to every actor who submits on every role. We can't sign every actor who seeks representation. We need the ability to say NO to the majority of the people in the mix… and when you as an actor walk in handing us your NO, that's the one we'll go with.
~ Not showcasing in your footage that you're capable of something we need you to do in this role? Your lack of footage is your NO.
~ Feeling as though you're too old to be an actor? Your anxiety over hoping I don't feel that way is your NO.
~ Marketing your brand in a way that is actually not your brand at all? That disconnect is your NO.
And when you hand buyers your NO, we don't have to go looking for any other ones. We don't need to give you a stopper. We'll just use what you gave us.
Where this becomes a big problem is, if the NO you handed me is one you carry around out of fear (like the "I'm too old" thing), it just got confirmed for you. And NOT because it's true… but because it was the easy NO you handed me.
Take a moment to reflect upon NOs you may be giving out like Halloween candy in Mayberry. Spotting any that need addressing?
Scroll down and pop your list in the comments and let's jam about this! Ooh, and also plan to join me over here for a Facebook Live on Wednesday at 1pm pacific called: Are You Too Old to Be an Actor? Let's dispel some myths and of course have a blast as always.
(Can't make it live? No worries! I always post my replays at my YouTube channel. Not subscribed? Fix that with a click right here!)
All right you beautiful people, stay awesome! We've got big things coming here at Team Cricket Feet and I'm so excited to share them with you! All in due time. 😉
Much love,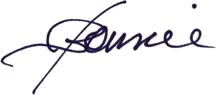 ---
Bonnie Gillespie is living her dreams by helping others figure out how to live theirs. Wanna work with Bon? Start here. Thanks!
(Visited 462 times, 1 visits today)