Hi Bonnie,
I've been a long-time reader, finally moved to LA nine days ago, and have registered for Central Casting and on Showfax. I've got an audition for a student film, and I'm seeing lots of other stuff that I would like to submit for but several of the projects shoot at the same time. So IF I book the gig I have an audition for and IF I get called in for the second job and IF they want to book me, that would be a conflict.
I'm not sure what the protocol is for that. There's a lot of ifs in there, but I wouldn't want to get called for something that, by the time they get back to me, I might have to say, "Sorry, I suddenly can't make it."
What's the protocol here?
Thanks,
Eric Eberle
Hello Eric, and welcome to LA! It sounds like you are OFF to the races, as they say, and have had no trouble diving in and getting out there for your first auditions in town. Awesome!
Okay, so the whole "what if" thing is a biggie for actors (and creative freelancers of all kind, really) because there's not much "for sure" action in our lives, right? So we say yes to one thing, knowing we've been working toward getting involved with another thing, and when we see that those dates collide, we begin to stress out about the "what ifs" of it all.
Lemme give you a great line from my beloved husband: "Anxiety is the opposite of being present."
So, the first tip is to just do everything you can to try and feel present. Right NOW you have auditions. That's it. You have no offers. You have no conflicts. You have auditions. Awesome. Relax about everything else.
Yes, of course, it's the responsible, professional thing to PLAN for those what ifs, but I'm going to encourage you to come up with a general policy, and then forget about the day-to-day stress until there's actually an issue you need to address.
What's a good general policy? Some actors will not submit on anything with dates that conflict with anything on which they've already auditioned. Of course, dates can change (on either project), so the downside of this policy is that you've held yourself OUT of the running on the second project and the first one (which you haven't even booked yet) could shifts dates, meaning you could've actually done both… but you never even went out for the second one.
Some actors will not only submit on projects with conflicting dates, but they'll go out on auditions for both projects, go to callbacks for both projects, and not stress about scheduling until they BOOK both projects, causing a headache for production (and potentially pissing off casting directors and talent agents, both of whom would've loved a heads up about the potential conflict, sooner).
I think the best choice is somewhere in between.
Once you're going out a LOT — especially in a market as active as LA — it's going to start to click for you that you can't possibly keep up with all the dates, and you'll also start to see that MANY times, projects' dates change. So, to try and keep it all straight and to try and avoid any potential conflicts even before you agree to audition is eventually going to become crazymaking.
I've found the best practice to be COMMUNICATION about potential conflicts. Right now, you have none. You are simply auditioning for a bunch of things that ALL could turn into bookings and that ALL could have date changes, even after shooting has begun. In my book, communication about potential conflicts absolutely should happen when a callback is granted, if not before.
So, say you book the first job but you had already auditioned for the second job (before you booked the first one). You get word that you've got a callback for the second job. At that moment, you disclose that SINCE your preread you have booked a job that shoots on dates that conflict with this one. That way, the casting director can tell you (or your agent, if the communication is going on between them) whether the dates are even still the same (because they may have changed) and can elect to NOT have you come to callbacks, since they now know you won't be available, if the dates are firm.
Sure, even after all that, the dates on the first project could shift and you'll kick yourself for having taken yourself out of the running on the second one, but it's just gonna happen sometimes! And by disclosing your status when there's still time for the buyers to bring in other choices, you at least retain your relationship with them, so they can remember your talent AND your professionalism, and bring you in again in the future.
I know this seems like a really long answer for a very simple question, but that's with good reason. There are a lot of variables you're dealing with, always, as an actor, and the best bet is to start coming up with some personal policies on things like this BEFORE there's the stress of being in the moment, faced with a crisis of ethics and professionalism. That way, you can always have a plan… and then stave off anxiety by remaining present and by staying focused on what exists in the here and now. 🙂
Keep rockin' those auditions! Glad LA is treating you well.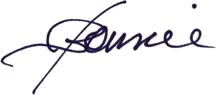 ---
Bonnie Gillespie is living her dreams by helping others figure out how to live theirs. Wanna work with Bon? Start here. Thanks!
---
Originally published by Actors Access at http://more.showfax.com/columns/avoice/archives/001696.html. Please support the many wonderful resources provided by the Breakdown Services family. This posting is the author's personal archive.
(Visited 417 times, 1 visits today)