Happy birthday, Charlsie.
Today you would've turned 85.
The whole Mother's Day weekend-slash-your birthday thing is always an interesting negotiation of emotions while I watch others celebrate their mothers or being celebrated as mothers… and I light a candle of remembrance and update you with a journal entry even though I know you know all that's going on with me from far beyond what even I can see.
Today, I remember one of the times you were maddest at me, about 30 years ago. I was being complimented on my ability to earn, save, and manage money. I was in high school and working three part-time jobs plus booking paid acting work that would take me out of school to shoot sometimes.
I was saving toward my car, which I would eventually buy with a $5000 cash down payment. I was always great with money.
Someone in our family asked me how I got so good with money and I said that I watched you struggle and stress and I knew I never wanted to do that, so I made different choices. You were LIVID. You flew into a rage about how you wanted me to learn what to DO from you, not what NOT to do.
Thing is, it's all the same work, and as I evolve my money mindset with Denise Duffield-Thomas and Dana Middleton I am so grateful to release what is not my issue with money, with love, with leadership, with anything else.
Momma, I learned so much of EVERYTHING from you, and I continue to do so. I love you so much. I miss our talks every day. They still happen; they're just different now.
Happy birthday to the best woman I've ever known. ❤️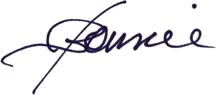 ---
Bonnie Gillespie is living her dreams by helping others figure out how to live theirs. Wanna work with Bon? Start here. Thanks!
(Visited 34 times, 1 visits today)