Nine weeks ago today, I attended my first pole dancing class. I had already paid for six weeks of training, plus the teaser intro, because I knew I was very likely to leave my very first class defeated, emotional, and convinced that this was too hard for a 41.5-year-old plus-sized non-dancer to attempt. So, like a gym membership, it was a financial incentive to at least go "all in" for six weeks. Like I said when I took on my first casting job for FOX in 2003, "I can do anything for five weeks." So, this was gonna be six. And it was Keith's birthday present.
Yup. I bought the sexist pig seven classes over six weeks, plus some new gear to wear, and that was the best present I've given him in our eleven years together, outside of my hand in marriage. 😉 Every time he drops me off at class, he's giddy. Doesn't matter that he doesn't know what the studio looks like, what we do in there, or anything else. In his mind, this is the coolest thing an old broad like me can do for her hubs.
Hours after my very first class — during which I cried, as expected — we had a playdate with a director friend of mine, and I said to Keith as we walked to that date, "We're not telling anyone I'm doing this, okay?" because I was so sure I'd be quitting in a few weeks, even though my instructor, Kelli, was super supportive and this was feeling pretty important. Heck, the reason I didn't sign up for pole classes when I first checked into them, oh, over three years ago, or just over two years ago when a friend invited me to her private graduation demo, or in the past six months when another friend kept posting encouraging things to me at Google+ about her pole journey, was partly because I knew this was going to be HARD and partly because I knew it would change my life. Forever.
And life gets pretty comfortable around 38, 39, 40… if no one has warned you, be ready. You're pretty dang okay with who you are at that point, and anything *this big* is, well, BIG. Risky. Important.
So.
Day two of my pole journey and I cry some more. I'm now with my ongoing classmates and I realize I'm going to be the pet project of the group. I'm the oldest and the fattest in the room (something that made me say, "I can't sign up" for years, obviously, and then something I realized was NOT changing, every day I waited to sign up). I'm thinking, WHEN I hit a trick, I'm gonna get the slow-clap, the cheer, the "YAY! She finally did it!" thing, but that's not coming anytime soon. My floor work is good. My wall work is good. My pole work… is a huge challenge. I keep saying I actually don't even *want* to do pole. I just want to reawaken a part of me I've closed off, due to my focus on my career, damage from my youth, complacency, whatever.
But every class, I still grab the pole — the only lefty in the house, which adds a level of complexity to my every attempt (but not one I'm not used to, as all left-handed folks who refuse to "adapt" will have to run anything physical through a translation process, as if speaking a new language, first) — and even though all I'm doing is "getting cool with the pole" each time, it's feeling like progress. Tear-stained progress, but progress, just the same.
I'll take it.
Week two rolls around and I've busted my knee two days before class in a tequila binge unlike anything I've experienced since Reed Hall in 1988. I know, from having read Steven Pressfield, that this is my Resistance showing up. Before I can even shake off my hangover, I've committed to a makeup class, which The Pole Garage allows, effortlessly. I *will* be getting my seven classes in, dammit.
Week three. I'm back. I'm encouraged. But I'm behind. It's okay, because I was behind already. Now, I'm behind "with reason" and my goal is just NOT to run to the ladies room, crying, and hiding from this work we're doing. I succeed. For the first time, I decide — after class — to say to anyone in the real world that I'm doing this. I mention it on the weekly mentorship phonecall for Get A-Listed. I mention that there's a teaser class coming up on Saturday, if anyone would like to come with. I post a bruise-filled photo of my shins on Facebook. Two types of people comment. One: People who are concerned Keith is beating me, I have a horrible disease, or I am now having weekly tequila binges and falling down every time. Two: Girls who have taken pole classes, saying, "Oooooh! I know what you've been doing!"
I feel family coming on.
Week four. Three classes in two days. I attend my first mixed-level class, as a makeup for the class I missed, and I know it's going to be challenging, but I also know it's going to be a great experience, as seeing people at different levels, seeing people of different body types, seeing people who love wall and floor work more than pole work, and just continuing to do the work is what's important. I cry the WHOLE time. I hear music in a way that I don't usually hear music — and I love music, y'all — and just doing stretches before the pole work, I'm sobbing. WHAT IS HAPPENING?!? I ask myself… and the answer is a resounding, "I want this!"
I hear those words bumping around my brain. "I want this!" But I'm not ready. Or so I keep replying. First of three classes in two days is over, and had I not committed to bring a ninja friend to the second class of that day (a new teaser class), I would go home, curl into a ball, cry, and never again return. Everyone from my makeup class is leaving and I sit, crying, and ask "My Pole Momma" Kelli, "When does this stop?" (about my crying).
She tells me that it will stop and I'll have a breakthrough and then I'll think I'm all set and I'll hit another wall and I'll cry again and be mad, thinking I was done, and then I'll have another breakthrough and it'll always be magical and filled with support. The owner of The Pole Garage comes in right as I'm talking about this block, at this point, and she's obviously been briefed on me. I'm sure I'm a special case — but this is also such an intimate place that they give everyone a bunch of personal attention. It's just still at the place in my journey where I'm sure it's all about me. I later realize that everyone — EVERYONE — is on her own journey. No one is watching me like I think they are. We're all watching ourselves. We're all playing our inner game. I'm rereading The Inner Game of Tennis and remembering it's not about the swing… it's about the space my head is in, as I swing.
Drea tells me about starting her pole journey, seven years ago, and losing 48 pounds (she's quick to point out she lost weight, as if she's sure that's my reason for taking pole classes. Hey, that's a logical assumption when you see a plus-sized girl signing up for pole, but it's sooo not my WHY, here). She then talks about how pole changed the way she walked around the office, at her job as a trader. She talks about how she started buying clothes differently. She talks about how she got raises and promotions that were based totally in her confidence. I'm reminded of how I had a major breakthrough last year, in which I realized I had been cock-blocking my own success very efficiently, and if I would just let myself be my fullest self, I could fly.
I show up two hours later for my second of three classes those two days and have my first experience with Mary Grace, who has also clearly been briefed on me. She welcomes me. She talks about how we ALL have to embrace the one thing we have that we can use. She talks about a pole junkie who had strength and grace but no flexibility. "She worked to get hers," MG said, and then she told us specific things she did to *get* flexible.
And as I pushed to the floor in a stretch and realized I may not have upper-body strength, I may not have a single-digit-sized body, I may not have grace, but I do have flexibility, and that's gotta mean something… I committed that I would start working on the strength and the grace. I would start being prissier than I generally am. I would take any opportunity to build a muscle. I would work to get mine, while celebrating the fact that I have more flexibility than some people can ever build up to having. Thank you, my momma, for keeping us tuned into yoga on PBS, since 1973.
I spend time with Cat, who teaches me that it's not about getting down to a size zero; it's about loving your body and playing and being frisky and having fun and just OWNING all the shit you can do that you never thought you could do. I feel myself wanting to scream YES at every moment. Every moment at which I'm not crying. I am evolving. This is important. And that means it's terrifuckingfying.
Honestly, if not for my friend who wanted to check out the pole teaser that day, I never would've returned. But during that class, I got to see how far I had come in just a few weeks — something I wasn't seeing in the ongoing class, because so many classmates were progressing faster.
I showed up to my third class of two days and showed My Pole Momma what I had learned. She was thrilled. I then bought my home pole from the first person who brought me to a pole studio, two years before, and enrolled in the intermediate class that my beginning class would roll into *and* — because another of my ninja actor friends wanted to hit another teaser class — I signed up for THAT class, and the beginning class that was starting up on a second day of the week, which meant I was really saying, "I'm all in."
It's now two months into my pole journey. I'm hitting two classes per week, minimum. I have a home pole and I practice on it at least every other day, plus do floor work. I've learned I need to eat some good protein 90 minutes to two hours before my class. My relationship with music has changed. I used to take a bubble bath and listen to books on tape, to enrich my business, to learn a skill, to engage the part of my brain that runs an empire. Now, I take an epsom salt bath and listen to music to come up with songs that I want to try out, as I prance around the pole. I beg my pole sisters for their playlists. I hit SHAZAM on my iPhone every time I hear something that makes my hips want to sway.
I used to take photos of my battered shins — and let's be clear, they were REALLY beaten up, at first — and now I can't even get a decent photo of the "best" bruise I've got, which is an under-toenail bruise, which My Pole Sponsor (the friend who finally got me to sign up for all of this, Danielle) says is common.
Yesterday, I spent more money on high-heeled shoes than I've spent on ANY shoes, ever, in any given year (and that doesn't mean these new shoes are pricey; it means my usual shoe budget is about $25 to $45, because I'm a Payless gal, and yesterday, I bought some really cute "fancy" shoes that I will try out at Thirsty Third Thursday… not because I can pole dance in those shoes, but because I'm forever changed and want to priss about, daily).
When I walk anywhere, I'm not winded. In fact, I'm fast and fit. When I put on my clothes, they are falling off me. Yeah, I still have work to do, but one of those items of business is, apparently, buying smaller clothes. When I am hungry, I'm hungry for protein and my new obsession, Greek yogurt. I'm full-on ravenous. I need fuel. I felt older and fatter in my 30s than I feel right now. I'm knockin' on 42 and I am excited to paint on sparkly toenail polish, I'm blissed out to buy bootie shorts, I have a pole as the FIRST FREAKIN' THING you see when you enter my home! And when I'm away from it, I cannot wait to come home and fly… even though I bust the shit out of my shins, still. (But now, they don't bruise up the same way. They just take it in.)
Mixed level class is where — when I bring the gals for whom *I* have become "pole sponsor" — I'm asked to show a little review. "What is the Screwdriver?" "Do the Lexus." "Ooh, the Genie! That's yours! Do that!" "Oh, hang on. That Gypsy is different. Show me that." "The Sexy? Can you do that?" And today was the day I said — after having had weeks of, "Oh, I know I'm blocking myself on an inner level, and there will someday be a moment when I just pick up and DO the spins that right now I only know, academically," I actually said, "Oh, sure, the Lexus with the Whip looks like this, but I can't do it, so just start like this and then…"
And then I did it.
And then I did the next one I "couldn't do." And the next. And the next.
And my girls said, "You SAID IT! You said there would be a day when you would just DO it. And you DID IT!" And as I write this post, I am so excited for tomorrow — my third class in four days — in which I can show My Pole Momma how far I've come since she's last seen me. I am ready for my slow clap. I still have a gazillion miles to go to get anywhere close to where I want to be, but that I'm in different skin two months later is a huge win. It inspires me to encourage others to just fucking show up. Just TRY. That thing that scares you… do it. You have no idea how big an impact it may have.
(Or maybe you do, and that's why you avoid it. Change is scary. Big, important change is terrifying. I get it. I really do. But I can tell you from *this* side of it, it's really amazing.)
I've volunteered to help out at the Pacific Pole Championships, where both My Pole Sponsor and My Pole Momma will be competing. I actually delayed my flight to teach SMFA in New York by a day, just so I could be there in support of my pole family, be inspired, learn, experience a sisterhood I've not had since my Gamma Sig days over 20 years ago.
*snap* *snap* *snap*
My pole sisters who are with me on my Thursday night classes join me after class for something that's not that different from "after class gatherings" we did in our ongoing SMFA Master Class days. We compare bruises. We talk about our damage. We laugh. We cry. We are better for the time together. We're using notes that My Pole Sponsor shared about her journey. We're evolving. We've all already committed to the roll-over intermediate for THIS session, which means I'm on the books for two sessions per week through July… and that means I've learned this, my friends:
I signed up for pole dancing classes as Keith's birthday present. Turns out, this is gonna be mine.
😀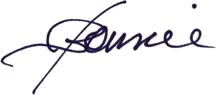 ---
Bonnie Gillespie is living her dreams by helping others figure out how to live theirs. Wanna work with Bon? Start here. Thanks!
(Visited 240 times, 1 visits today)