It started Friday, June 3rd.
Welp, it may have started before then, as I was finding myself quite fatigued in the last days of May. I was sleeping a lot — sometimes 10, 12, even 14 hours — and seeing as I usually get anywhere from three to six hours of sleep, max, that was worth noting.
But on Friday the 3rd, I mentioned to Keith that I thought I should take a half a Sudafed. My ear was bothering me. Pressure. Pain.
Over the course of the weekend, the pain and pressure stuck around… increased. Uh-oh. Another damn ear infection, right?
Okay, off to Urgent Care for a pack of antibiotics and a topical cream for a rash on my earlobe the doc is certain is due to a reaction to some earring I've worn.
NOTE: I've not worn earrings in about 20 years.
But whatever; he went to med school and I did not. And I am a good girl and take the drugs I'm prescribed.
Tuesday night: excruciating pain. Let's give the drugs time to work. It's only been a day.
Wednesday night: excruciating pain. We've decided if this pattern repeats Thursday, back to Urgent Care we go (which is what they recommend when we talk on the phone Wednesday — I love that they call to check on me).
Of course, Thursday night: excruciating pain and a schedule that simply will not allow for another visit to the doc 'til Friday.
So, Friday the 10th, back we go.
Oh. Oh? It's not an ear infection?
"Your eardrum is clear as a bell! You look great… except for this rash. Have you ever had shingles?"
In fact I have.
As anyone who has ever had chickenpox *can* have, I had shingles when I was 16, about to turn 17. In fact, it was this time of year… so… 29 years ago.
Now, shingles are not fun. They're painful as fuck. They're scary. And they're brought about by stress. Significant stress.
Something about which I'm quite familiar, but something about which I've gotten very good at managing in my adult life.
Or so I thought.
Cut to Friday the 10th and my new diagnosis. And my new drugs. And oh my God, sweet relief for the first time in a week.
But the number-one "fix" for shingles is stress avoidance.
How the hell am I supposed to avoid stress?
My fitness of choice is a high-stress, adrenaline-junky flight around a vertical apparatus.
I care far too much about evvvvvveeerrrrrryyyyyyything.
I idle at stressed out.
So.
I take these drugs. One of them is "set an alarm and take one of these five times a day" in nature. Another is "take one of these and OMG watch out because you're going to crash out, hard."
Now, I don't mean, "may cause drowsiness," here. I mean, "you're going to be slightly paralyzed so you cannot move." Whoa.
I guess that's one way to ensure no stress! I mean, I can't move. I can't really focus my vision. I've had to cancel everything and I cannot stress about it.
Physically.
I cannot stress about it.
So, this gets me thinking about stress management.
It gets me thinking about "good enough." It gets me thinking about the attachment to results, to outcome, to how others feel… and it gets me thinking about how I've lived my life believing that if I work hard enough, I can make anything happen.
And so far, that's been true.
Don't have what I want? Work harder. I'll get it.
Yet something I've never worked hard for…? My health. Relaxation. Detachment.
And that brings me to a decision I made long before this shingles diagnosis: I'm going on vacation. True vacation. Off-the-grid, no technology, 100% unreachable even by Keith vacation. For the first time EVER.
Yup.
I never once have taken a break without also taking my work with me.
See? I love my work. And I run my own business. I have a staff to pay. And if I'm not working, they're not making rent. So I'm always working. And I love it. Therefore it's very *easy* for me to justify relaxing then working, relaxing then working some more, and then relaxing and pulling an all-nighter to catch up on work… and calling that a break.
Because compared to my daily life, it is.
This one is going to be different, and I had already made that decision for myself before this diagnosis.
And maybe that's why this diagnosis came about? I'm pushing myself harder to get as much done as possible so that I can truly enjoy being clocked out.
Matters not. Whatever the reason, I now have to take it easy.
And that brings me to this: Stress management is a choice. Our relationship with worry, our concern over what may happen, our PUSHING to make things happen is 100% within our control.
Those extra ten things we may do because we think it makes a difference often might make a shift of anywhere between zero percent and ten percent in the results we'd get if we didn't do those extra ten things.
So how's about trying to NOT do those extra ten things now and then? Or to do one of them? Maybe?
What might you commit to NOT doing?
What bit of stress are you choosing to introduce — maybe even daily — that you could soften a bit?
I have to say, I'm looking for things daily to just let go of. It's pretty awesome how everything all works out just the same.
And as much as I love you, I cannot wait to be 100% cut off from hearing from you or sharing anything with you about my journey for more than a week. Cannot. Wait.
Love,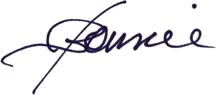 ---
Bonnie Gillespie is living her dreams by helping others figure out how to live theirs. Wanna work with Bon? Start here. Thanks!
(Visited 343 times, 1 visits today)