Something amazing happened last night.
While we were watching the east coast feed of Saturday Night Live, the hubs said, "Pause it," which is what he always says when there's something more interesting on his laptop screen than on our TV screen. I paused SNL and looked to Keith's laptop, which had this — the most epic ten seconds in the history of all things viral.
Senator Elizabeth Warren — mere days after stepping out of the 2020 presidential race — didn't just appear in a sketch with goddess Kate McKinnon on SNL, she participated gloriously in the TikTok "Flip the Switch" challenge with Kate. Kate… whose final beat before the end of the clip registers awe, admiration, and a wee bit of "Oh, shit, can I keep myself from busting out laughing right now?" regularly portrays Sen. Warren on the show.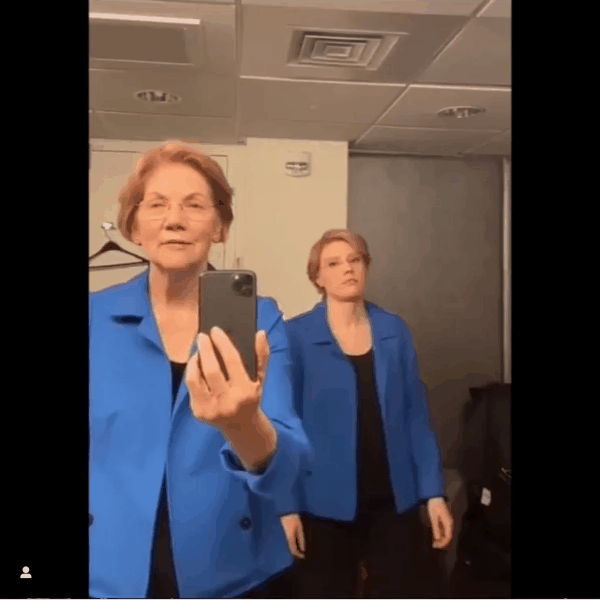 Not being a TikTok person, it took a few words from Popsugar's Brea Cubit for me to grok the origin of this brilliance that was quickly blazing through the internet (and filling my DMs with sheer glee from people who watched it on my timeline).
Elizabeth and Kate took on TikTok's "Flip the Switch" challenge. It involves standing in front of a mirror with someone while playing Drake's 2018 song "Nonstop." As soon as the lyric "I just flipped the switch" comes in, someone flicks a light off and back on, revealing that the participants have swapped positions and personas with each other.
Simple enough, right?
So why did something so straightforward create such a massive wave of happy during a time when EVERY. FUCKING. CONVERSATION. is about the Coronavirus or inept leadership or the failing economy or global warming or the End of Days?
First, because we NEED a quick dose of happiness. We are aching for a break from these heavy, terrifying, ever-more-tragic discussions that have become all but inescapable. Our souls are begging for some levity, some hope, some permission to not take everything so damn seriously (at a time when some very serious things are going on).
Next, on International Women's Day, we are elated to see a woman so many respect NOT curl up in a ball after such an ego-bruising presidential primary in which we were again reminded about the depth of misogyny in the United States but instead HAVE FUN for ten tiny seconds in a row. For no reason. With no agenda.
But see, that's what's so brilliant about this. It encapsulates resilience and detachment from outcome and the connectedness that IS "being a woman" in so many ways. And while — as a Warren-voter — I personally have a twinge of sadness when I smile at this clip (which I've seriously watched dozens of times in the 16 hours since it was posted), imagining "what could have been" while wondering if I'll actually live to EVER see a woman become president (something I was certain I'd someday witness, my whole life up until just a few years ago), there is something disarmingly optimistic about what's happening in this clip.
It's a means of summing up the "Hey, we can't take life all that seriously all the time" tone we HAVE TO have access to as humans on this planet right now.
Because if all we ever feel is the anxiety and powerlessness and turmoil that's at top-of-mind for so many today, we will never be able to build our way OUT of that quagmire.
Find a way to have a laugh today, y'all.
Watch the replay of my "Revolution of Relaxed Creatives" livestream at Facebook or at YouTube. Another brilliant Elizabeth — Liz Gilbert — was right when she told me that our power comes from our ability to lessen our own anxiety.
How can you lessen your own anxiety?
Do that. And then keep doing it every few hours. It's healing work and it's important. Especially right now.
Share below in the comments what it is that you'll do and how you'll celebrate it in a way that it can inspire others too!
Before I sign off, here's a quick heads up for those of you on the waitlist for our 100-day challenge: I'll be in your inbox very soon with some GREAT news! (Not yet on the waitlist? Fix that right over here!) Our success as HEALTHY creatives has never been more crucial. I am elated that I get to help make that a reality for you!
Find the joy!
'til next time…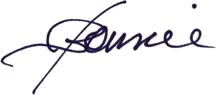 ---
Enoughness is an inside job… and sometimes you need a guide to find your way there. Let Bonnie Gillespie get you started.
REPLAY: How Liz Gilbert Taught Bonnie Gillespie About Enoughness
(Visited 1,078 times, 1 visits today)