Do you celebrate your youness? You know, that stuff that makes you uniquely you. Or do you show up for an audition and immediately start angling, based on what you think they're looking for?
One of these choices makes you an actor. The other puts you in the psychic business, and that's not anywhere close to what they're looking for! I get that it's tempting. You are a chameleon, based on years of actor training. You can change up your choices, based on years of practice doing so. You are an intuitive critter and you do want to please others — especially if pleasing someone gets you this gig right now!
But I'll recommend that you get out of the habit of trying to read the room — or worse, hustling for info in the waiting room, or taking seriously whatever other auditioning actors are saying as The Truth about what they believe they're looking for in the room — with the goal of changing up your read to please anyone. Get information, sure. But don't let anything throw off the hard work you've done in prep for your time in the room.
Beyond the auditioning room, this advice goes for selecting headshots or putting together your demo reel! By trying to be everything to everyone, you successfully accomplish only one thing: Not being yourself to anyone.
I like to use the analogy of a dartboard, with the bullseye being your ultimate youness. It's where you are, at your core, when you work on a role. Sure, you may play the creepy bad guy and not truly be a bad guy, but that bad guy is your bullseye and a trusted clergyman is somewhere in the outer rings of the dartboard. Doesn't mean you can't hit that role — of course you can, you're an actor — but it means it's a bit off the mark of who you are, effortlessly.
More importantly, it's someone else's bullseye.
And in a town like Los Angeles in particular, specializing in hitting your bullseye is the smartest use of your time, your effort, and your focus.
Sure, you can walk in, read the room, figure they're looking for someone younger and try and come off younger in your read. But someone else is going to walk in younger, be younger, bullseye younger. Why compete with that? Instead, chalk it up to one of those auditions where you got to show 'em your take on the role (even if it's going to go to someone younger, creepier, quirkier, whatever) and, most importantly, you got to show them your youness, so that they can call you in "better" next time.
Next time, they call you in at your bullseye, because you showed them what that place looks like, with your audition.
Never obsess about getting one particular role. Book the Room, stay Professional at Any Level, and always celebrate your youness. There will be a day when that's exactly what they need. Good thing you showed them what that bullseye looks like, huh?
And so much easier than trying to be anything other than what you truly are!
What's Your Youness? Do you have a clear picture of your bullseye? Let's talk about it in the comments section, below! 🙂 Can't wait to hear from you.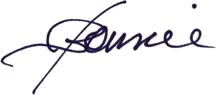 ---
Bonnie Gillespie is living her dreams by helping others figure out how to live theirs. Wanna work with Bon? Start here. Thanks!
---
Originally published by Actors Access at http://more.showfax.com/columns/avoice/archives/001390.html. Please support the many wonderful resources provided by the Breakdown Services family. This posting is the author's personal archive.
(Visited 616 times, 1 visits today)