This is from a series at our Chart Harmony Discord server… scroll down for the link if you'd like to join us there for all the good convos we have going on there. 😉 For the quick how-to on the adding up of all the numbers, the numerology of 1 post covers that, right here. Okay… let's party!
Starting at midnight wherever you live, Monday the 19th is a "7 day," numerologically.
7 days (or 7 months, or 7 years) can be… tough. They can be lonely. They can be a kind of "dark night of the soul" at times because of how deeply we go within, during the 7 energy. It's a spiritual time in which we build courage for the next version of ourselves to come.
We may find ourselves being introverted, quiet, disconnected from the world and the people in it, spending time getting clear on what centers us and what we can continue to pull from our core as we take flight (check back tomorrow for more on that shift). The astrological alignment with the 7 is our already-in-the-next-world Pisces. Pure magic… with no sense of space and time.
Ideally, we go within without resistance during the 7 energy. Over time, our practice with the 7 can become a welcome reconnecting with our higher selves.
Want info on what numerology YOU are, by birth? Grab my free training — What Your Birthday Says About You — here! I've gotchuu! And if you'd like to join our free community for having these discussions on the daily, our Discord is here. Yay!
Love and light,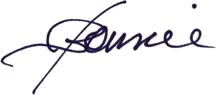 ---
Bonnie Gillespie is living her dreams by helping others figure out how to live theirs. Wanna work with Bon? Start here. Thanks!
(Visited 123 times, 1 visits today)